Prestigious UNICEF UK Gold Baby Friendly Status Award reissued to Maternity and Health Visiting Services
25/08/2021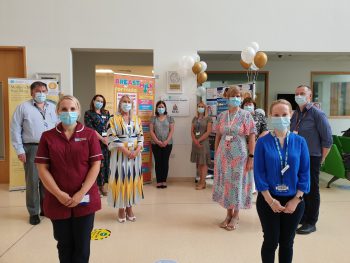 Our Maternity and Health Visiting Service has had a prestigious international standard for its exceptional standards in relation to Baby Care and Breastfeeding renewed.
The UNICEF UK Gold Baby Friendly accreditation was re-awarded to the team in the Southern Sector, which covers the Tyrone and Fermanagh area.
This prestigious accreditation is only awarded to those who have demonstrated their commitment and ability to meet UNICEF's highest 'Baby Friendly Best Practise' standards.
Our Maternity and Health Visiting Services were highly commended for their submission and the progress made with embedding and developing care related to the Baby Friendly standards. Both the maternity and health visiting services are accredited as Baby Friendly and this report relates to their joint application to be accredited as Gold.
The Baby Friendly Initiative is designed to work through health professionals to ensure parents are supported to make fully informed choices about how they feed their babies.
Expressing her congratulations Donna Keenan, Assistant Director for Nursing said:
"I am delighted that the Western Trust has been able to maintain our accreditation for the UNICEF UK Gold Award for breastfeeding. It is very important as an organisation that we support families and encourage them to choose to breastfeed their baby. We also help them to recognise the many benefits of breastfeeding for healthy brain development and to reduce obesity, diabetes and some cancers."
Donna added:
"We have put a lot of effort in as an organisation to maintain this accreditation and it is important that the families and staff are recognised for their commitment and contribution. Well done to everyone involved!"
Mary McKenna, Assistant Director for Women and Children's Services and guardian for breastfeeding at the Western Trust commented:
"I would like to commend our health visiting and midwifery staff in the Western Trust who have achieved this prestigious award for breast feeding. We are one of a few Trusts throughout the United Kingdom to have achieved this accolade and have now achieved these gold standards for the second year running. This is a tremendous credit to our staff who have put in an incredible effort and training into achieving this!
Mary added:
"I wish to acknowledge the enormous challenges that the COVID pandemic has had on our services, however, our staff have stepped up to the mark and used innovative ways to communicate with families and encourage mums to keep going with their breast feeding journey. There has been new WhatsApp Support groups, peer support groups and volunteers established and we are looking at other small groups of peer support to start up as soon as possible.

"We are doing our very best to support those mums who understandably have been very anxious about COVID and would like to take the opportunity to encourage expectant woman and new mums to please avail of the vaccine. Information on the safety and effectiveness of this vaccine can be found on the Western Trust's website or via the Public Health Agency."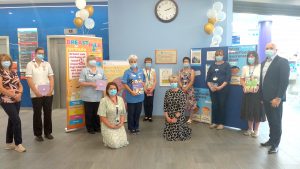 The Western Trust Gold Breastfeeding subgroup Committee, believe the implementation of the UNICEF Baby Friendly Initiative is a multi-agency approach working in partnership with Maternity Units, Health Visiting Services, the Human Milk Bank, Sure Starts and our Breastfeeding Peer Support Volunteers. Staff within the statutory and community sector of the Western Trust have dedicated a huge amount of time and hard work to the implementation of this initiative and this partnership is essential to successfully implement UNICEF best standards of care for mothers and babies and are to be commended for their efforts. Congratulations on receiving this coveted gold standard award."