Potens Care Team celebrate success in the National Disability Awards (NI)
06/04/2023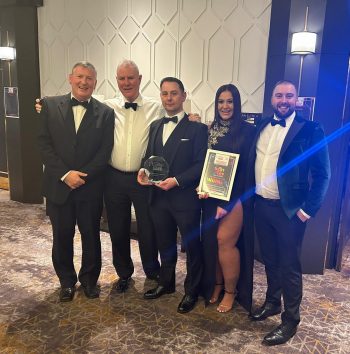 The Potens Care Team are celebrating their success in the National Disability Award (NI) for 'Breaking down Barriers' to support Greg in reaching his goals!
Congratulations to Greg Nixon, Service User from Derry/Londonderry who's care team Potens (NIDCA) won the National Learning Disability and Autism Award (NI) for 'Breaking down barriers'.  They were also finalists in the nomination for 'Great Autism Practice'.   The National Learning Disabilities & Autism Awards celebrate excellence in the support for people with learning disabilities and aim to pay tribute to those individuals or organisations who excel in providing quality care.
Lisa Finlay, Behaviour Therapist, Positive Behaviour Support Service explained:
"Since moving to his supported living placement Greg has made some great achievements which at a time were very difficult for him, including accessing health care and community participation, including his love of horse riding.  Greg's team go above and beyond to support him make memories and incorporate his special interests.

We are delighted that Greg's care team Potens (DCNI) have been recognised in this national award held recently at the Hilton Hotel Belfast. Greg and his team have worked collaboratively with the Western Trust Positive Behaviour Support Team and Social Work Team and continue to enhance Greg's quality of life on a daily basis."
Photographed at the Awards ceremony are Potens (DCNI) staff Mike, Chris, Emma and Michael are alongside Greg's father Nigel who accompanied them on the night to accept the award.