Positive Ageing Month 2020
30/09/2020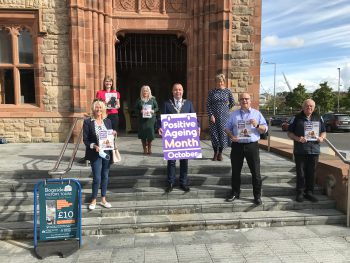 The Western Trust and lead partners Derry City and Strabane District Council, Public Health Agency and Community and Voluntary organisations are working together to promote the 3rd annual Positive Ageing Month throughout the Derry City and Strabane District Council area during the month of October.
Launching the campaign, John Paul McGinley, Assistant Director – Secondary Care and Older People's Mental Health said: "Positive Ageing Month gives us an opportunity to draw attention to groups and activities that exist for older people throughout the District. In an ageing population, it is important we continue to work together to encourage older people to reach out and connect with their local community, not only to reduce social isolation and loneliness but to support them to live, long healthy lives. We also must not forget the valuable contribution older people make within our local communities."
Positive Ageing month takes into consideration the 5 steps to wellbeing – Be Active, Connect, Take Notice, Give and Keep Learning. This PHA initiative shows these 5 simple steps built into our daily lives can help maintain and improve emotional health and wellbeing. This year in light of Covid-19, a mixture of activities are planned that enable older people to connect both virtually through online events and physically where this is permissible within the Covid-19 guidelines.
Mayor of Derry City and Strabane District Council, Cllr Brian Tierney, said: "I am hugely honoured to be launching Positive Ageing Month in support of the Western Trust, the Public Health Agency), and our local community and voluntary organisations. A key element of the Council's Strategic Growth Plan is to promote health and wellbeing and to engage with older people to improve their health and social skills that will ultimately benefit their overall physical, mental and emotional health."
Mayor Tierney added: "Our Council is a member of the World Health Organisation (WHO) Global Network for Age Friendly Cities and Communities and we are committed to promoting the interests of our older population and to fostering the exchange of experience and mutual learning between cities and communities worldwide.
"I would like to encourage older people to embrace the programme of activities, get involved, and connect with others to try something new or learn a skill during Positive Ageing Month. You won't be disappointed that you did!"
We would also like to use this opportunity to promote a new resource which has been produced by Age Friendly Network NI and the Public Health Agency 'Keeping Well at Home' booklet for older people. We are spending more time at home now and this booklet has some ideas and suggestions to keep us safe and well:
Keeping our mind well
Moving well at home
Strength and balance
Keeping nourished
Keeping warm
Avoiding scams
To coincide with the booklet, Age NI have teamed up with Lady Mary Peters to launch Move with Mary, an exercise programme aimed specifically at keeping older people moving during the extended Covid-19 restrictions.
For more information please contact the Western Trust Health Improvement, Equality and Involvement Department by emailing Health.Improvement@westerntrust.hscni.net or phone 028 7186 5127 #PositiveAgeingWest