Poignant Service of Remembrance held to honour those associated with renal services
15/02/2023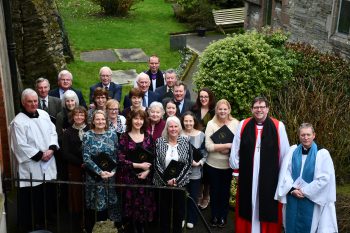 St Augustine's Church in Londonderry was the venue on Sunday afternoon (12 February 2023) for a Remembrance Service with a difference – one held to honour those who had been associated with renal services at Altnagelvin Hospital.
The poignant service was organised by the Altnagelvin Renal Support Group and led by the Rector of St Augustine's Church, Reverend Nigel Cairns, who is the Church of Ireland Chaplain to Altnagelvin Hospital, Londonderry. The Rector was assisted by the Bishop of Derry and Raphoe, Rt Reverend Andrew Forster, the Vicar General of the Diocese of Derry, Fr Michael Canny (representing the Bishop of Derry, Dr Donal McKeown) and Diocesan Reader Mr Sean McClafferty. Among those in the congregation was Mr Zola Mzimba, who is a Deputy Lieutenant for the Borough of County Derry and who was accompanied by his daughter, Niamh.
The Service sought to remember all those whose lives (or whose family's lives) had been involved in some way with renal services, including those who had died because of renal failure; those who had died for some other reasons and had donated organs, including kidneys, to give someone else a chance of a better life; and living donors who had donated a kidney.
The guest speaker was transplant consultant Dr Aisling Courtney from Belfast City Hospital. Dr Courtney talked about the impact that transplantation had made to the lives of those who had received organs. She said:
"Kidney transplantation, as well as transplanting other organs, makes such a massive difference to people that really is hard to put into words. There are those of you here who have experienced that for yourselves in terms of the transformation of your health with transplantation.
Dr Courtney said that every time share and her team 'plumbed' a kidney in, they were conscious that it was a kidney that had come from somebody else as a 'gift'. She said: "Every time we give the gift of life to someone in transplantation – unless it's given from a living donor kidney – it's the tragedy of loss, and some of you here will feel that, and feel that keenly."
Music for the service was provided by the Altnagelvin Hospital Choir, under the direction of Dr Derek Collins, who accompanied the choir on the organ. Afterwards the congregation enjoyed refreshments in the adjoining parish hall.
A beautiful, poignant event remembering all those associated with renal services. Thank you to everyone who contributed and attended this beautiful service.