Patients continue to benefit during the coronavirus pandemic from Acute Care at Home Service in the West
19/06/2020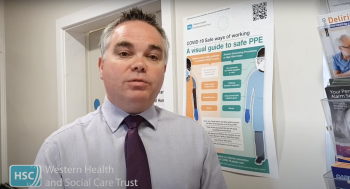 The short-term acute service provides a 'virtual ward' in the patient's home to treat their illness, avoiding admission to hospital or facilitating an early discharge from hospital.
The high quality acute service is delivered by a specialist multidisciplinary team led by a Consultant Geriatrician and consisting of Specialty Doctors, Nurses, a Pharmacist, Occupational Therapist, Physiotherapist, Support Workers, and clerical staff. The service provides the same access to diagnostic and laboratory services as patients would expect to receive in a hospital setting, allowing the team to be able to treat patients with a range of acute illnesses at home. ACAH has continued to treat patients with non-COVID19 conditions as it did before, as well as assessing and managing patients with COVID19 in their own homes and nursing homes during the challenging situation that the current pandemic has brought.
Patients continue to be referred to the service by their GP or the Northern Ireland Ambulance Service and ACAH now receives referrals from other primary care providers such as the Community Respiratory Team and Advanced Nurse Practitioners, amongst others.  During the referral process, ACAH will discuss with the referrer regarding the best place of care to meet the specific needs of each individual patient. Referrals are also received from colleagues in Altnagelvin Hospital in order to facilitate an earlier discharge home for patients.
The Western Health and Social Care Trust (Northern Sector) Acute Care at Home (ACAH) Team remains proud of the impact of this 'hospital at home' service, which has benefitted over 1750 patients since its launch in August 2016.
Dr Bob Brown, Director for Primary Care and Older People at the Western Trust said: "I would like to acknowledge the hard work and commitment of the Acute Care at Home Team in providing such a fantastic service in the local community. We know that a hospital admission can often cause stress and anxiety for patients, particularly those living with dementia and this service creates a 'virtual ward' in the patient's home, allowing them to live independently for longer and, where possible, help avoid hospital admissions. The service demonstrates the success of transformation and the need to continue to reform and personalise our services to meet the evolving health and social care needs of the population of the West."
Dr Stephen Todd, Consultant Geriatrician and Clinical Lead for the Acute Care at Home Team, said: "This safe and high quality service continues to help many hundreds of older people to manage acute illness in the comfort of their own home, including nursing and residential accommodation. The team can treat a wide range of conditions such as chest infections and dehydration and can carry out scans and take blood tests in the patient's home. By offering patients more accessible care in the community, we continue to see very positive outcomes from this service. Analysis suggests that patients spend less time being treated for their condition than if they were admitted to a hospital ward and we experience much lower levels of some of the potential hazards for older people of being in hospital, such as falls, hospital acquired infections and delirium.
COVID19 has been challenging for all sectors of health and social care. Approximately one third of patients treated by ACAH live in a care home. This vulnerable group in our society are particularly at risk from coronavirus, as has been well publicised. ACAH has continued to work in partnership with primary care providers to help older people stay at home through an acute illness, including COVID19 itself, as well as supporting care homes to maintain and care for their residents in the familiar environment of the care home. ACAH will continue to play an important role with other services in the Trust's community response to COVID19."
Being a 'great place to grow old' is one of the Western Trust's key aims and feedback from ACAH service users reflects that being a central benefit of their experience. Comments received via the 10,000 More Voices campaign also indicate that ACAH provides services in keeping with the HSC Values for All of working together, excellence, openness and honesty, and compassion, and include:
'important service, kept mum at home giving a high level of care which was individual…..very much patient centred'

'I felt safe when you were here looking after him, couldn't ask for anything better'

'delighted to have such a wonderful service in the comfort of my own home and not have to wait on a trolley in A+E'

'my husband was in late stages of dementia….and was able to be cared for at home….made everything very calm and relaxing as going into the hospital wouldn't have been the best thing for [him]'

'the team saved my life, I mean saved my life. I wouldn't be here if it wasn't for them and I would like to thank them all.'
Jennifer Mullan, Acting Head of Service/ Lead Nurse for Secondary Care explains: "The Western Trust's focus to the address the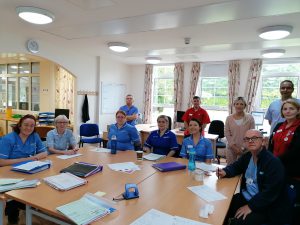 needs of older people during the COVID19 pandemic has seen the ACAH team proactively responding by maintaining older people at home to receive treatment and care for COVID19. This was invaluable to enable people to stay in their Nursing Home or their own homes. This system-wide perspective also facilitates working more closely with local partners, including primary care colleagues, social care and community services to support robust service models that span organisational boundaries.
A core component of the team's vision is the development of our senior nurses to become more advanced and competent to drive service improvement for our patients. One nurse is completing his Advanced Nurse Practitioner course this year and will be an excellent additional asset to the delivery of this service. The development of our nurses to carry out robust health assessments and prescribe independently, offers our patients the highest standards of care, knowledge and expertise.