Over 200 Students attend Successful 'Midwifery as a Career Events' at Altnagelvin and South West Acute Hospitals
20/02/2023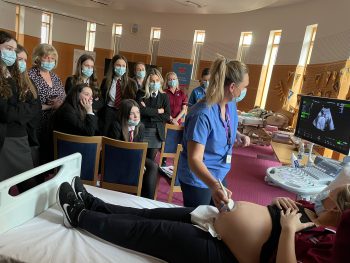 Over 200 students from the across the Western Trust area attended two successful Midwifery as a Career events recently organized by the Trust's Maternity Department.
Open evenings for Post 16 students and their career teachers from local schools and colleges were held at Altnagelvin Hospital, Londonderry and South West Acute Hospital, Enniskillen with staff on hand to provide information on training, qualifications and job roles for the QUB undergraduate programme.
The event in Altnagelvin Hospital was organised by Consultant Midwife Sinead Lecky and Practice Development Midwife Rachel Byrne organised the event at South West Acute Hospital.
Welcoming students to the Midwifery as a Career events Maureen Miller, Head of Midwifery at the Western Trust said:
"Midwifery demands strong commitment, but a big part of the reward is in knowing that what you do is likely to have a deep and lasting impact on the person, their family, and the people you work with. These events focuses on educating local students to what it really means to be a Midwife and why it can be such a rewarding career.

"I am delighted with the interest and attendance from the surrounding schools and colleges and due to the huge success of these events our midwifery department will host similar events in September 2023 with schools and colleges invited to attend.
Mrs Miller also explained that currently the Post Graduate Midwifery Masters course Masters applications are open until 6th February 2023. This is only applicable to qualified Adult Nurses with a 2:1/2:2 Degree with a minimum of 6 months post registration experience. Maureen wished to encourage all nurses who have an interest in pursuing a midwifery career, to apply via the Queen University website Midwifery (MSc) | Courses | Queen's University Belfast (qub.ac.uk) where additional information and application can be located.
The potential future Midwifery applicant's thoroughly enjoyed the excellent, well informed and professional event and were welcomed by senior Midwifery Management in the respective areas. Western Trust QUB PEFF Midwife Emma Bradly also provided information on qualifications required to apply via UCAS for Midwifery as a Third level education and ultimately a degree.
Current student midwives where also present to talk about their experience and journey and this was followed up by a presentation from current employed newly qualified midwives.
The young students then had the opportunity to visit the many work stations provided to explain what all aspects are required and available to be a midwife. The highlight of the event was a live Ultrasound Scan demonstration provided in the South West Acute Hospital site to the surprise of the students present.
Thank you to all the midwifery staff who give up their free time to support this event and provide valuable advice and support to potential students and their career advisors. We wish all the students every success for the future and hope to welcome to the Western Trust as a 'Great Place to Work'.