Over 1,000 Homebound Patients vaccinated in the Community
18/03/2021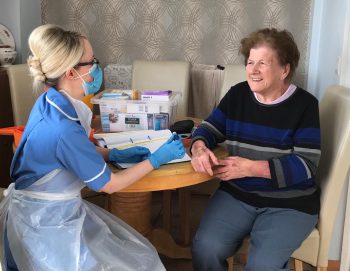 The continued efforts of our District and Community Nursing Teams has resulted in the successful delivery over 1,000 doses of COVID-19 Vaccine to homebound patients in the Community across the Western Trust area.
District and Community Nurses have a wide range of roles, including working with patients and their families in managing long term conditions such as diabetes, dementia, complex wound care and heart failure.
Dr Bob Brown, Director of Primary Care and Older People's services with the Western Trust, said:
"Our District and Community Nursing teams carry out a vital role in providing care for some of the most vulnerable people in society.

"As not everyone is able to attend one of the three mass vaccination centres set up across the Western Trust area, these teams have worked hard to enable us to deliver over 1,100 doses to people as quickly as possible, in the safety and comfort of their own home."
The District and Community Nursing Teams are based in local community hubs and in many cases have longstanding roles in caring for the patients now being vaccinated.
The impressive milestone has been delivered through the coordinated efforts of Western Trust staff working closely with GP Surgeries and Multi-Agency groups since the vaccination programme was launched in mid-January. It required over 1,000 individual visits to patients' own homes located throughout the Western Trust geographical area.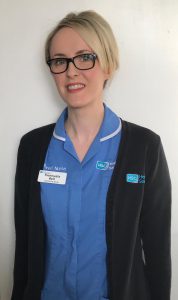 Based in Shantallow Health Centre, Derry/Londonderry, Community Staff Nurse Fionnuala Bell, said:
"As District and Community Nurses, our roles are hugely varied and at times can be very challenging, particularly now due to the additional complications presented by COVID-19".

"For example, we provide care for those going through cancer treatment and we also provide palliative and end of life care to patients in the comfort and privacy of their own homes. We work with them and their families and other professionals to ensure the best possible individualised care is provided at all times and that patients are as comfortable as possible.

"An important part of our job is to administer injections, including vaccinations and more recently the COVID-19 vaccination to those who are housebound. Due to the nature and severity of many patients' conditions, it has been important for us to ensure that we work in full accordance with the required infection control measures when entering and working within patients' homes.

"This includes the wearing of PPE and adhering to the relevant social distancing requirements where practical in the home. This has made what previously was a relatively simple effort, much more complicated."

"For us as a team to be able to play a key part in the vaccination roll out has been hugely challenging in terms of logistics, due to the number of homes required to visit and the distances between them.

"However, with the news that we have administered doses to over 1,000 people and knowing the level of reassurance and peace of mind that it has given those who have received it, has undoubtedly been one of the most rewarding things we have ever achieved as a group."
The COVID-19 vaccine has been made available to a number of different ages and groups across Northern Ireland.
For up to date information about the current vaccine eligibility criteria or to book a vaccination place visit the online booking portal https://covid-19.hscni.net/get-vaccinated
Alternatively you can call the regional booking line on 0300 200 7813 from Monday to Friday from 8.00am to 8.00pm.
Those within the Western Trust area can also call the local booking line on 028 7161 0753.
Anyone invited to attend one of the Mass Vaccination Centres is reminded to wear a face covering (unless exempt for medical reasons), adhere to social distancing rules and bring along their booking reference number, ID and, if possible HSC number.