Our Hearts Our Minds expanding with launch of a virtual patient platform
08/12/2021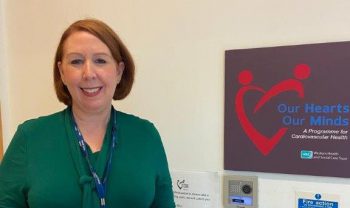 The Our Hearts Our Minds (OHOM) programme for Cardiovascular Health is expanding with the launch of a new virtual patient platform.
Since the start of the pandemic, the Western Trust Our Hearts Our Minds (OHOM) team have been instrumental in ensuring that cardiology patients have had a continuity of care by delivering the programme online.  So far, over 600 patients have attended the virtual programme which, like the previous in-house programme has significantly reduced patients' risk of mortality from cardiovascular disease. Patients on the programme have seen a reduction in their smoking and obesity, with associated improvements in physical activity and diet. Nine out of 10 patients were achieving their blood pressure and cholesterol targets and their psychological health measures improved too. The programme has also seen a 30% reduction in patient emergency re-admissions, thus meaning less pressure on acute services.
With the success of the virtual programme to date, the Our Hearts Our Minds team are now excited to introduce patients to a new and innovative virtual patient platform called CHARLI. CHARLI (Cardiovascular Health Application and Real Life Integration) has been developed as a three-way collaboration between the Western Trust, Fitbit and ConnectedLife Healthcare and is the first programme of its kind in Europe. It combines Fitbit data with other health measures into a clinician dashboard as well as a patient facing app.
CHARLI has three main components; the Fitbit Sense smartwatch, which automatically measures heart rate, rhythm and physical activity; a mobile application where patients can log measures such as their blood pressure, weight, as well as answer questions about their diet and psychological health. All this data is available for the OHOM team to view on a dashboard enabling them to support their patients more effectively including optimising their medication, sending medication reminders and personalised motivational messages via the CHARLI app.
Dr Susan Connolly, Consultant Cardiologist at the Western Trust said: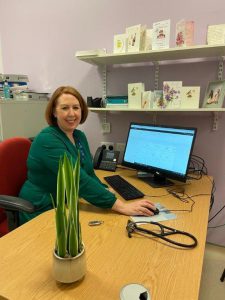 "We are really excited to introduce CHARLI. The last 18 months has really taught us how digital health can offer a completely new way of working. CHARLI is another huge step forward as it expands the capability of remote monitoring whilst streamlining the process for both staff and patients. With CHARLI, the team gain a very holistic view of the patient, which means they can tailor their intervention precisely to their needs and patients can monitor every step of their journey towards good cardiovascular health. Patients were very influential both in the design and naming of CHARLI, with the OHOM team conducting multiple focus groups and can monitor their own progress and see when they have achieved their targets.

"It looks like the COVID-19 pandemic is far from over so CHARLI will allow us to continue to support our patients. The system also overcomes issues such as rurality in the West as well being more flexible for patients in their workplace. Family can also join in and age does not appear to present a barrier with our oldest patient on the dashboard currently being 85."

"The success of Our Hearts Our Minds does depend on securing long term funding and we welcome the NI Executive's plans to move to three yearly budgets for Health and Social Care from 2022. This will allow us the opportunity to bid for secure funding in order to develop this pioneering work"
Nicola Maxwell, Head of Fitbit Health Solutions in Europe, Middle East and Africa, explained the important role Fitbit can play she said:
"Working with clinical partners to help to improve outcomes for people with cardiometabolic diseases, particularly hypertension and diabetes is a key focus for us.

"Within this programme we are able to give people a better view of their activity, sleep and other health metrics that can help empower them in managing their day to day wellbeing. We are also working to harness innovative technologies that can lead to better condition management and potentially decrease the burden on the healthcare system."
Kevin Deery, a patient who has participated in the Our Hearts Our Minds Programme said:
"Having had a heart attack and stents fitted, I left hospital to enter a whole new world. Reality kicks in and you are left with so many questions about what you can and can't do. It felt very isolating. I was then contacted by the OHOM team and invited to the Programme. It was the best decision I ever made. I had access to a team consisting of a nurse, dietician, exercise specialist and psychologist. The team provided me with so much support and were on hand to answer any questions I had – it gave me my independence back.

"This new APP CHARLI really is the future. I am able to monitor my own blood pressure, weight, pulse etc and feed it in to the system where my Consultant and nurse can keep an eye on how I am getting on. It's really like having your own doctor right by your side.

"Not only have I lost several stone in weight, I am walking nearly 5 miles a day and continuing to challenge myself. I am totally indebted to the entire Our Hearts Our Minds team – they have saved my life!"