Organ Donation Week – Meet our new SNOD, Noelle Melarkey
09/09/2020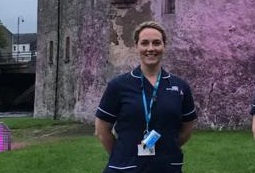 Meet the new Western Trust Specialist Nurse in Organ Donation (SNOD) Noelle Melarkey, based in the South West Acute Hospital, Enniskillen
How long have you been in you current role as the new Specialist Nurse in Organ Donation based at South West Acute Hospital?
I have been in my current post for one year. The training period takes six months. It involves a cohort training program, which is a mixture of classroom, interactive learning and close mentorship within the various ICU Departments in Northern Ireland, gaining hands on experience in real clinical practice.
Your Career before becoming a Specialist Nurse in Organ Donation?
I began my career as a student nurse in 1997 in Queens University based in Altnagelvin Hospital.
I qualified in 2000 and took up my first nursing post in the Tyrone County Hospital in Theatres. I remained in a Theatre role moving to Erne Hospital, and then onto the South West Acute Hospital. I have worked in a variety of different specialities including general, ENT, gynae and obstetrics, paediatric general, dental, emergency/trauma and day case, over the past 18 yrs, before finishing as a Deputy Theatre Sister.
Last year, I was successful in gaining a post as the SNOD in the SWAH site. A role I was very interested in for many years.
What made you decide to become a SNOD?
It was an area of nursing I was always interested in. From a theatre perspective, I was in awe of the donors and families being able to think of others during this difficult time in their own lives. Whilst working in theatre, I had the opportunity of helping facilitate a few of the retrieval operations. Watching the joint effort and skills of the retrieval surgeons, SNODS and other members of the team carefully and respectfully organising, planning and operating to retrieve the organs for transplantation that would go on to save the lives of others. This always astounded me.
I knew then it was a career I wanted to pursue in the future.
What is the role of the SNOD?
We provide End of Life Care (EOLC) options. Organ donation can bring great comfort to some families following the death of their loved one.
We support the family to make the right decision for them by providing information on Organ Donation. It is always helpful when the family know their loved ones wishes when asked to make these decisions.
When the family honour their loved ones wishes or decide on their behalf it would be something they would have wanted, the SNOD plans and organises all aspects of the donation process.
Within my embedded role, I deliver teaching, organ donation promotion and support to the critical care staff to identify and refer patients when they have the potential to become an organ donor.
Are there any moments that you have found particularly challenging and/or rewarding about your new role?
It is a truly unique and inspiring role to have. It's a privilege to be able to help families in such difficult times. Organ donation doesn't lessen the pain a family feels when they loss someone they love, however having something positive coming from tragedy can be comforting for them.
Without the Organ Donor, there would be no story, no hope no transplants. But when there is an Organ Donor, life springs from death, sorrow turns to hope and a terrible loss becomes a gift." #shareyourwishes.
Organ Donation Week (7-13 September) Have you thought about it?