Organ Donation Week – Meet our new SNOD, Mary Hayes
11/09/2020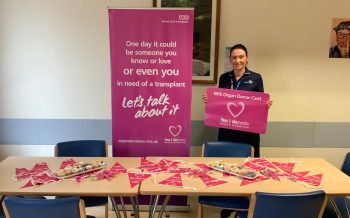 Meet the new Western Trust Specialist Nurse in Organ Donation (SNOD) Mary Hayes, based in Altnagelvin Hospital
How long have you been in your current role?
I have been in post since November 2019, I completed my Specialist Nurse in Organ Donation training at the end of April 2020.
Tell a little about your career before becoming a SNOD?
I qualified as a nurse in 1993, since that time I have worked as a staff nurse in a variety of wards and specialist units such as Emergency Department, Intensive Care and Coronary Care Units.
From 2001 to 2006 I worked as a Night Sister in Southampton.
My last post was as a Clinical Site Manager in Bristol, I held this role for 13 years.
What made you decide to become a SNOD?
Having made a decision to move back to Ireland from England, I was actively looking for suitable jobs in Northern Ireland. When I read the job description for the advertised SNOD role, I felt that this was a role that could be interesting, varied and very rewarding. I was also impressed by the amount of training and development NHS Blood and Transplant as an employer invest in their staff individually, the training to become a SNOD was a six month intensive training programme, I felt like a student nurse again – but 30 years later.
What is the role of a SNOD?
The Specialist Nurse in Organ Donation supports families when making end of life decisions. If the family decide that organ donation is the right choice for them, they are supported throughout the process by the SNOD.
The SNOD plans and organises the operational process for organ donation to occur and is present with the donor throughout the procedure.
In my embedded hospital I provide teaching, organ donation promotion and support ICU staff to identify and refer patients who could potentially become organ donors.
Are there any moments/things that you found particularly challenging and/or rewarding about your role?
Being a Specialist Nurse in Organ Donation is a really special job. It's a privilege to be part of someone's end of life care when they have given consent for the precious gift to save the life of other people. It is very humbling to hear families speak about wanting to help others despite the grief they themselves are facing. Organ donation does not lessen the pain or grief but families do take comfort in knowing that something positive can come from tragedy.
I would encourage everyone to have the organ donor conversation, share your wishes.