Organ Donation Week – Geraldine recognised for contribution to Organ Donation
13/09/2020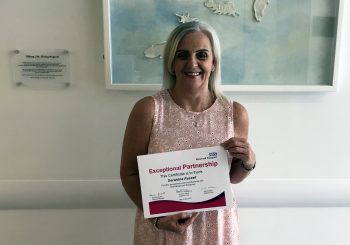 Geraldine Russell, a Health Care Assistant based at the South West Acute Hospital has been recognised with an 'Exceptional Partnership' award by NHS Blood and Transplant for her contribution to services in theatres during organ donation retrieval operations.
Geraldine has worked with almost all of the Western Trust's retrieval operations in the South West Acute Hospital, even coming in from annual leave to help facilitate these very important procedures.
Speaking about being part of the organ retrieval process, Geraldine said: "It is such an honour and privilege to show the great respect for all the donors.
"The Organ retrieval team are a dedicated group of people. They travel to the SWAH day or night to carry out the gift of life. It is a real privilege to work alongside a dedicated team in their field.
"As a team, we all show respect and dignity to our donors. Without them other people wouldn't have this special gift. We carry out the family request and wishes to the full. This can even be a piece of music or a special song. I feel deeply for a person or family who decides to give such a gift, to extend a life and help another person live a life they wouldn't have had. It is a wonderful process to be part of.
Geraldine continued: The SWAH theatre team are truly amazing dedicated group of people. They work endless 365 a year going above and beyond. They don't get enough credit for what they all do. I am very proud to be part of such a great bunch of people.
"I, myself am on the donor list and suggest if anyone is thinking of becoming a donor please do, as you can help extend and enhance up to nine peoples lives."
Congratulating Geraldine on her award, Chair of the Western Trust and Chair of the Organ Donation Committee Sam Pollock said: "I am delighted that Geraldine has been recognised for her hard work and dedication to services in theatres during the organ donor retrieval process. Geraldine has went above and beyond the call of duty in what are no doubt very difficult and challenging circumstances.
"Thank you Geraldine for your continued support for Organ Donation."