Newly Qualified Paediatric Nurse explains why the Neonatal Unit in South West Acute Hospital, Enniskillen is a great place to work
10/02/2022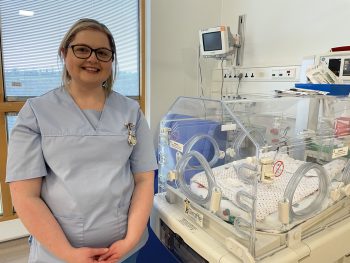 Newly qualified Paediatric Nurse Michelle McElroy, based at South West Acute Hospital's Neonatal Unit is encouraging others to consider a career in neonatal nursing and paediatrics and explains why South West Acute Hospital is a great place to work.
Michelle explains: "Working within the neonatal unit is a very rewarding job as we care for sick and premature babies. We work within a wide multi-disciplinary team to ensure we meet the clinical and individual needs of each baby that comes through the unit, supporting families as we go along their journey with them.
"The impact our role has as nurses here in the neonatal unit is very important. We appreciate that we are meeting parents and babies at their lowest point in their journey, this can be a very unsettling time as the admission can be unexpected and there is an initial separation anxiety for babies and parents.
"We appreciate that neonatal can be a very daunting environment and we are there to encourage, support and provide education for parents as to how they can assist with their child's journey to getting them hopefully to go home.
"We are very privileged here in the neonatal unit to be able to follow families throughout their journey through continuity of care, post discharge for home as we are hopeful that at the end of their journey they will be discharged home as a family unit, ready for family life at home."
Michelle continued: "Working as a nurse within the neonatal team is a very rewarding role as we are watching not only the babies to grow and develop but we are also watching and encourage parents in providing care for their babies and giving them confidence in doing so as they have had a rough start in life as a new family unit.
The team within the SWAH are a very friendly team they are very encouraging to new staff coming in from all aspects whether that's from new nurses or doctors on rotation everyone is very well looked after. They are very encouraging for a lot of training to take place.
As a newly qualified nurse it is very daunting choosing exactly where you want your post to be, as we have been very lucky we have had 8 or 9 clinical placements that have all been chosen for us but in a wide variety. I feel that in neonatal we don't get a lot of experience as students, as its six or 14 week placements were as with the rotational programme here in SWAH you get the best of both worlds.
You will have a 6 to 9 month rotation in the neonatal unit and then you rotate over to the paediatric team for 6 to 9 months also. We are very lucky in SWAH to have the same team of doctors working across neonatal and paediatrics so you are family with the doctors and their team and also al nursing staff all link very well together. We are all under the same directorate and working to ensure an adequate and appropriate service to ensure a happy friendly team providing appropriate care at all times."