New Year, New You – Stop Smoking Message
18/01/2021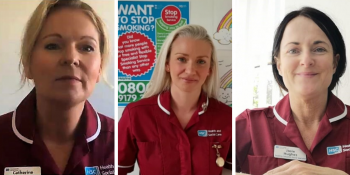 Our Smoking Cessation Service are supporting people to take the first step to quit smoking for 2021!
Michelle Scott, Smoking Cessation Nurse Service Coordinator at the Western Trust said: "It's that time of the year again when everyone starts making their new year's resolutions. Be it losing weight, getting out of debt, quitting smoking – all the classics, and everyone thinks that January is the perfect time to 'change their lives'
"To quit smoking, you must first want to quit, but then you must also do the quitting.
"Today just might be the best day to start seriously thinking about quitting smoking.
Josie Hughes, Smoking Cessation Nurse Specialist from the Southern Sector of the Trust said: "It is even more important with the COVID-19 virus circulating widely in the community and our health services under extreme pressure due to the third surge of this Pandemic that you make 2021 the year you quit smoking. This lifestyle choice will not only benefit you and your loved ones but will also help frontline healthcare workers and prevent admission to our hospitals at this challenging time.
Michelle added: "The Trust's Smoking Cessation Service suspended face to face consultations at the start of the COVID-19 Pandemic, however, expert advice and support to quit is available from our dedicated smoking cessation specialist nurses. Please ring our telephone helpline on 0800 9179388 and will support you every step of the way!
Catherine Farren, Smoking Cessation Nurse Specialist from the Northern Sector of the Trust said: "Please take positive steps towards avoiding obstacles which have prevented you from successfully stopping smoking for good. There are many ways you can help yourself overcome fears and find motivation to ensure ongoing success such as taking small steps, be accountable for your actions, embrace your desire to stop smoking and remember, every beginning is difficult, but it gets easier from there on. It is a good idea from time to time when cravings arise to recall all those big and little reasons why you wanted to quit smoking in the first place.
"Quitting smoking is a marathon rather than a sprint. It is not a one-time attempt, but a longer effort. Remember, you are four times more likely to succeed in stopping smoking if you join our smokefree service. It only takes one word to get the stop smoking advice you need… YES!!!