New North Wing Facility at Altnagelvin Hospital Completed
01/12/2020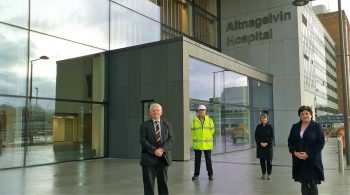 We delighted to announce the completion and handover of the new North Wing building at Altnagelvin Hospital, Londonderry this week. The North Wing facility will provide an additional six new 24 bed inpatient ward areas and a new main entrance to Altnagelvin Hospital.
All six ward areas are now operational and the Trust is now working to ensure the new main entrance part of the building will be operational from Monday 7 December 2020. The current entrance zone of the hospital will then close for future redevelopment.
Dr Anne Kilgallen, Western Trust Chief Executive said: "I am delighted to see the North Wing facility completed and now fully operational. In April 2020 three of the Wards were 'fast tracked' to open earlier than planned to manage the Covid-19 surge capacity at the Hospital and I would like to thank everyone involved for the significant effort undertaken to bring this invaluable space into operation as quickly as possible. The six new wards will allow us to provide clinical care and treatment to our patients in single en suite rooms. This will improve the quality and experience for our patients, whilst supporting our staff in their caring roles."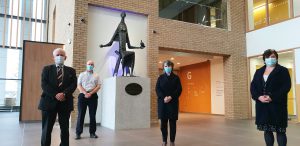 Dr Anne Kilgallen continued: "I would also like to thank the Design Team, led by HLM architects, CPD Health Project Team and the Trust's own Strategic Capital Development team, for all their hard work and personal efforts in leading on this significant project. Also, thank you to our staff, visitors and patients to the hospital for their continued patience and understanding during this period of disruption on this busy hospital site. It has been incredibly challenging year for all healthcare staff due to the Covid-19 Pandemic which presented everyone with increased challenges however, everyone has worked diligently to ensure that the project progressed and this is an extremely positive day for everyone involved. Our staff continue to provide excellent patient centred care and this new facility will enhance the patient's journey and will be of great benefit for the local population we serve."
Alan Moore, Director of Capital Development for the Western Trust said: "On behalf of the Western Trust, I would like to pay tribute to Farrans Construction and other partners for their support and commitment in delivering this important project for the hospital with the unprecedented challenges to the construction sector due to the Covid-19 Pandemic. This wonderful facility will provide modern, patient centred accommodation for inpatient care and treatment for the population of the North West and beyond and we are extremely proud to see that it is fully opened."
In preparing for the opening, the Trust will put clear directions in place from Monday 7 December 2020 to manage the transition to the new entrance area, which is located adjacent to the existing area. Bus stops for the hospital site have also been relocated as part of these works and Translink signage and timetable information has been updated accordingly.
Visiting to Altnagelvin Hospital is suspended until further notice and the Trust would like to remind the public to adhere to the current visiting restrictions. If you can, please arrange a 'virtual visit' with your relative or friend on a smartphone or tablet.