My Waiting Times NI
25/05/2023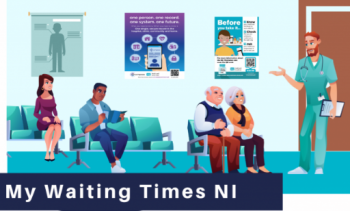 Patients in Northern Ireland can now use a new online system to check how long they are likely to wait for a specialist hospital appointment – My Waiting Times NI
The initiative has been developed to improve and centralise the information already publicly available to patients.
In this first phase, patients can find out the average waiting times for a first outpatients hospital appointment across the different clinical specialties in each Health and Social Care Trust area.
The webpage, known as My Waiting Times NI, will be expanded over time to also provide the latest waiting time information for procedures, treatment and diagnostics.
A Department of Health spokesperson said:
"Northern Ireland's waiting lists are a result of years of sustained pressure with demand for care and treatment outstripping hospital capacity.

"Additional funding has been made available in recent years to support a range of waiting list initiatives and we were beginning to see some stabilisation of the situation. However the current budget deficit means that this additional investment will be at a lower level this year. Regrettably, this will have an impact on waiting times.

"We are acutely aware of the consequences of waiting times for patients and their families. We also recognise the additional frustration when people do not have easily accessible information on how long they will have to wait. This new webpage should provide some clarity to patients, their families and carers.

"GPs and other primary care teams, such as dentists and pharmacists, will also have access to the information which should help them have more informed conversations with their patients."