Moving forward with a new-look Online Hub for Adult Learning Disability Services
20/01/2018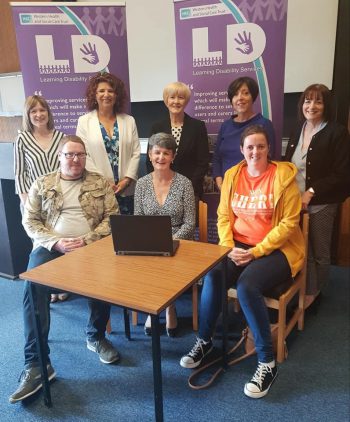 National Learning Disability Week concluded with Chief Executive, Dr Anne Kilgallen, getting a glimpse of the new-look website section on Adult Learning Disability. The continued Involvement work (PPI) within Adult Learning Disability Services in the Trust was highlighted during the week with a series of excellent events.
As part of the events, Chief Executive, Dr Anne Kilgallen, met up in #LDWeek2018 with Service Users, Caolan Friel and Roisin Doherty, along with other members of the ALD Advisory Involvement Group and Western Trust team to check out the new-look website section for Adult Learning Disability Services.
The entire section is being redeveloped as part of a comprehensive process which follows a series of Involvement events, workshops and research by a Communications Group within this process.
This work will continue to be advanced in the weeks ahead as this area of our website is developed to become an integral 'Hub of Information' for service users, carers, staff and the public alike. In the weeks ahead the various sections of the website will go live and will be tested by Service users, Carers and staff alike for further feedback.