Mental health campaign urges people to connect
07/09/2022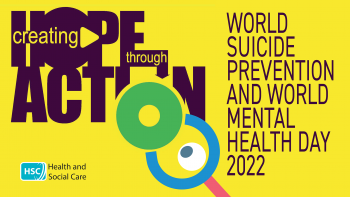 Today (Tuesday 6 September) marks the launch of this year's Health and Social Care (HSC) mental health and emotional wellbeing campaign.
The campaign's theme is 'Creating Hope Through Action', emphasising the importance of one of the Take 5 Steps to Wellbeing – to Connect.
Over the next five weeks, linking World Suicide Prevention Day on Sunday 10 September through to World Mental Health Day on 10 October the Public Health Agency (PHA) and the six Health and Social Care Trusts will promote resources, ideas and events aimed at communities, voluntary groups, families and individuals, about ways they can take part, to feel more connected.
The campaign encourages people to take action by connecting with others and in doing so, to feel more hopeful and build mental and emotional wellbeing resilience.
Shauna Houston, Senior Health Improvement Manager at the PHA, said:
"When it comes to our wellbeing, other people matter. Evidence shows that good relationships with family, friends and our wider communities are important for our mental and physical wellbeing. That's why 'Connect' is one of the Take 5 Steps to Wellbeing.

"Building stronger, wider social connections can help us feel happier and more secure, and give us a greater sense of purpose. Research has shown that people who feel connected to others have lower rates of anxiety and depression.

"Each of our Health and Social Care Trust partners have already started to promote the campaign resources and event planning guides to community and voluntary groups in their area so that connecting events can be organised in communities over the coming weeks. They have also produced short information videos showcasing ways to connect."
The showcase videos include, Danderball for the over 50's at Avoniel Leisure Centre, Belfast; sea swimming at Ballyholme beach, Bangor; walking for health groups in the Western Trust area; and Forest Bathing in Southern Trust area.
There are three ways community groups and the public can get involved in the campaign:
Download resources and a guide to organise a 'Coffee and Connect' event and information on the Camerado Movement, which supports people to set up a 'public living room' in their local community.
Explore the interactive training pack with a wide range of free courses in relation to mental health and suicide prevention, to help build skills and knowledge to help themselves and others – for example, Stress Control, Mood Matters, Psychological First Aid, SafeTalk.
Send song ideas that inspire them to feel hopeful. The list of songs will be added over the next five weeks to a 'Songs for Hope Playlist', available to view on the Minding Your Head website and can be used as inspiration to feel hopeful. People can email their song choice to SongsForHope@hscni.net
All information is available on the www.MindingYourHead.info website.
Launching the campaign, Mental Health Champion Professor Siobhan O'Neill, said:
"As we emerge from over two years where connecting with people was limited, many people lost their routines and ways to connect with each other. Loneliness has become a growing issue for many of us. When we are lonely we are at increased risk of mental health problems. That's why it's really important we raise awareness of the need to connect, its benefits and give people practical ideas and opportunities to connect in real life with others.

"Meaningful connections help us to cope better with stress and pressure, and our connections can help us recover when we are ill or injured so it has important physical benefits also.

"I am delighted to endorse the campaign once again and would encourage people to access the free resources, guides and links available online."
For more information and to access all the campaign resources including the 'Songs for Hope Playlist' visit www.MindingYourHead.info
Follow the PHA on social media and share how you're taking part using #HopeThroughAction22.
If you, or someone you know, is in crisis and struggling to cope, call Lifeline and speak to a counsellor immediately 0808 808 8000. Textphone for deaf and people with hearing difficulties is available at Lifeline 18001 0808 808 8000.
Notes to editors:
Examples of some of showcase videos from each of the trust areas.
Danderball for the over 50's at Avoniel Leisure Centre, Belfast
Connecting with others through sea swimming at Ballyholme beach, Co Down
Walking for health initiatives in the Western Trust area
Forest Bathing providing health benefits of nature and forest bathing in Southern Trust area
Horticulture therapy course based at Blossoms Larne for Northern Ireland Ambulance Service (HSC) staff. This alternative therapy has complemented the existing cognitive based therapy offered to staff
Camerado public living room event in the Northern Trust area
Take 5 Steps to Wellbeing are: Connect, Be active, Take notice,
Keep learning, Give
To find out more about the Take 5 Steps to Wellbeing click here.