Launch of 'We Are With You' Programme
01/03/2023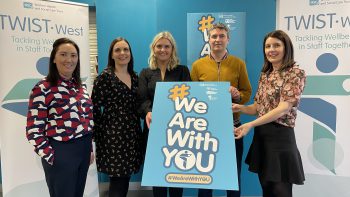 Our 'We Are With You' Programme was launched recently by Chief Executive, Neil Guckian. 'We Are With You' is a two year staff wellbeing programme aimed at improving the health and wellbeing of WHSCT staff, which is funded through the NHS Charities Foundation.
Seamus Ward, Head of Health Improvement Equality and Involvement (HIEI) said:
"The innovative programme plans to recruit 50 health champions across the organisation to take a lead in promoting health within their teams and departments. Another key aspect is to involve our senior leaders by encouraging them to take on a Wellbeing Guardian role to support and promote the health and wellbeing of staff. Trust directors are currently being invited to take on this new role and will be asked to actively and visibly advocate staff health and wellbeing on a topic of their choice."
Debbie Hunter, Assistant Manager said:
"The Western Trust currently employs 12,000-13,000 staff across its geography. A key element of the programme is to consult with and listen to staff on their needs and aspirations. This will help inform, facilitate and support the delivery of a diverse menu of wellbeing initiatives across the organisation."
Western Trust Chief Executive, Neil Guckian, said:
"I am delighted to launch the We Are With You programme. I am deeply aware of the importance of investing in staff wellbeing, especially following the COVID-19 pandemic. The Trust is committed to leading by example and investing in the health and wellbeing of our staff and I look forward to leading, promoting and partaking in some of the opportunities within the programme."
The 'We Are With You' programme employs three full-time staff. Rhonda Bond, Staff Wellbeing Advocate based at the Gransha site and Gabrielle McAloon, Staff Wellbeing Advocate, based at South West Acute Hospital. Joanne McDermott will lead on the Communications and Engagement of the programme.