Launch of 'Link to Wellbeing Project'
21/11/2022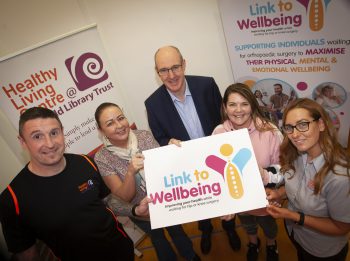 The Western Trust recently launched a new project on Friday 18th November 2022. Funded by NHS Charities Together, the project aims to support individuals waiting for orthopaedic surgery to maximise their physical, mental and emotional wellbeing in preparation for surgery.
The project is led by our Health Improvement, Equality and Involvement Department in partnership with our Trauma and Orthopaedic service and 10 local Community and Voluntary Sector organisations who will deliver 8 week community based 'Prehabilitation' style programmes to individuals on waiting lists for hip or knee replacement surgery.
These programmes will be delivered throughout the geography of the Western Trust and will cover a number of different topics to include; movement and mobility, healthy eating, pain management, peer support, mental health and condition management.
Programme beneficiary, Tracy Macrory comments;
"There is something very comforting about being in group where you can chat about the things you are struggling with and people can relate to what you are saying without thinking you're moaning. I'm thoroughly enjoying the programme and just sorry there are not more like it."
For more information on the project, please contact Claire Hamilton, project co-ordinator on 028 7186 5127.