Launch of Breast Cancer Screening Service Appointment App – Connect West
22/02/2023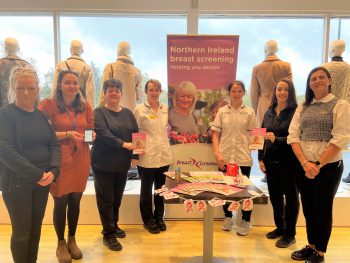 Our Breast Cancer Screening Service is delighted to launch a new Appointment App called Connect West which allows women more flexibility regarding their mammogram appointments.
Marietta Connor, Breast Imaging Service Manager at the Western Trust explained: "The Breast Screening Service are planning to launch the Connect West App for hand held device/mobile download in February 2023. This app aims to give service users another method of interacting with the provision of breast services in the Western Trust. The NHS Breast Screening Programme (NHSBSP) invites ladies aged 50-70 to attend in a three year cycle by GP practice for routine mammograms. The key objective of these screening mammograms is to detect small cancers before they would be felt by the individual.
"Our mobile screening units bring booked mammograms appointments to areas across the whole Western Trust catchment area throughout the year, as part of the National three year programme. The Connect West app will give service users information as to when the mobile will be back in their local area and allow them to cancel and reschedule their current mammogram appointments. The app will also use their phone map functions to guide people to the location of their appointment. It is hoped these additional features will give our clients more information to help them attend their appointments."
"It is also hoped that the ability to use this app will help to reduce the numbers of people who do not attend appointments, and free up capacity for those who request appointments at a different time from their initial scheduled appointment. In January 2023 the number of people who failed to attend for their screening appointment was 281 out of 2186 invited to attend."
Screening is also available, and free, for all women over the age 70. Those over 70 do not automatically receive an appointment through the National Screening programme. They can ring and make an appointment to attend the mobile at the Lakeland Forum by contacting the screening centre on 028 71611363 (select option 1). Alternatively they can request an appointment by sending an email to altnagelvin.breastscreening@westerntrust.hscni.net or download the Connect West App and use the chat function to speak with one of our call handlers.
Visit the NI Direct website for more information on breast screening.
Visit our Breast Services page for information on all Breast Services within the Western Trust or download the Connect West app.