International Recruitment Programme continues to attract highly skilled medics to the West
22/05/2023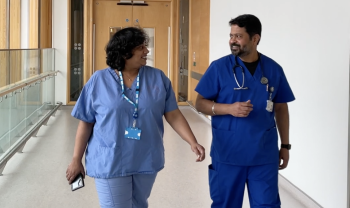 Now in its 8th year, our International Medical Recruitment Project continues to successfully recruit highly skilled Doctors and Nurses to the Western Trust area.
Established in 2015 to help deal with staffing pressures, the bespoke International Medical Recruitment (IMR) Project uses a Regional and a Local Global Recruitment Framework for Medical Recruitment. These Frameworks have been established through robust procurement processes to ensure public money is used appropriately.
Through this project, the Trust has been successful in attracting and retaining a growing pool of highly skilled and experienced doctors from across the world to support the development and sustainability of a wide range of specialist services within the South West Acute Hospital.
At the 30th April 2023, 210 doctors have taken up post through the project within the Western Trust.
87 of these doctors have taken up post in the South West Acute Hospital
23 of these Doctors are currently still in post. 3 are on a permanent basis
36 doctors have started through the project since 1st April 2022 (10 of these doctors commenced employment in South West Acute Hospital).
The project works hard to continue to attract CVs from all over the world and co-ordinate interviews.
31 doctors are currently progressing in the recruitment process (14 of these are for posts in South West Acute Hospital (11 doctors plan to commence before the end of November 2023).
Avril Morrow, Head of Service for HR Medical Recruitment said:
"As a Trust we have a responsibility to ensure our International recruits who come from across the world to work in the Western Trust, which can be quite challenging in itself, have adequate support from HR, Service Managers and Clinicians. This enables a smooth transition to working within the Trust as possible. We offer an induction and professional support which is crucial when integrating staff and setting out expectations in a clear and consistent way to help the settling-in process. Effective mentoring, professional support and a supportive learning environment enables staff to be as productive as possible in their new roles.

"The Western Trust has a supported integration programme. The relevant Clinical Lead is asked to complete this for each doctor recruited through the International Medical Recruitment Project. This process provides an opportunity to identify, as early as possible, any additional supports required and ensure they are put in place."
Avril continued:
"In addition we also, where possible, provide on site hospital accommodation for our International Recruits and their families for up to 8 weeks after arrival. This allows them time to explore the local property market and secure a long term rental property. Other supports via our agency representatives include pastoral support and help with registering with GP's and local schools."