Incoming Calls from the Public to Wards and Emergency Department
07/04/2023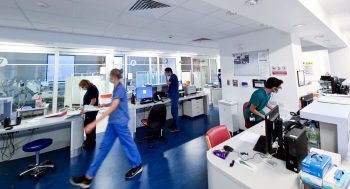 It is understandable and appropriate that relatives and friends of patients being treated in our hospital facilities would want to find out an update on their loved ones care and medical condition.
Recently there have been some isolated episodes of the public venting frustrations to frontline staff, including members of our switchboard team, in the processes of gaining updates on their relatives. On some occasions several members of the same family have been calling in, which can mean the nursing staff repeating updates about the same patient.
Where possible and as a reminder of our current policy, in an effort to streamline incoming phone calls, if one identified person can please be assigned to ring in to check on a patient's condition and then inform other family members of the status, this would help reduce the traffic of numerous phone calls from various family members.
Secondly, in conjunction with the respective ward staff where the patient is admitted, guidance can be offered to the assigned relative/caller at an early stage as to an appropriate timeframe when phone calls can be made and dealt with most effectively by the ward teams. This approach will help streamline the enquiry process and enable our clinical staff to prioritise caring for patients.
In the event of any obvious urgent need for the clinical team to notify the family about a patient's condition where an allocated relative has been identified and a contact number provided, those calls will be made by the nursing team to the identified family member.
Please also note the Trust has a zero tolerance policy to verbal abuse.