Important immunisation catch-ups for teens
06/03/2023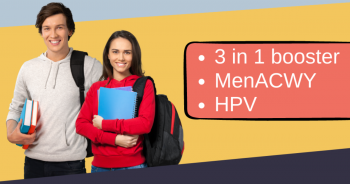 The Public Health Agency along with the Western Trust vaccination team are running teenage immunisation catch-up programmes in colleges and universities across the Western Trust area, giving students who missed getting their jabs in school during the COVID-19 pandemic the opportunity to receive them now.
Teenage immunisations include the 3 in 1 teenage booster (Tetanus, diphtheria and polio), the MenACWY, which protects against four strains of meningococcal bacteria which cause meningitis and blood poisoning (septicaemia) and the HPV vaccine (human papilloma virus) which protects against cervical, head and neck cancers.
Western Trust vaccination teams will be attending colleges and university campuses in the Western Trust area as follows:
| Date | College | Time |
| --- | --- | --- |
| Tuesday 14th March | SWC Enniskillen | 10.00am - 3.00pm |
| Wednesday 15th March | SWC Omagh | 10.00am - 3.00pm |
| Tuesday 21st March | NWRC Strand Road | 10.00am - 3.00pm |
| Wednesday 22nd March | Ulster University Magee | 10.00am - 3.00pm |
| Tuesday 28th March | NWRC Strabane | 10.00am - 3.00pm |
| Wednesday 29th March | NWRC Limavady | 10.00am - 3.00pm |
Clinics are open to all registered students who are NI residents. No booking is required as these will be walk-in clinics.
Students are encouraged to check their vaccination status prior to attending. They may have received an immunisation card or letter confirming they have had these vaccinations, or a parent/guardian may be able to help. The vaccinations may also have been recorded in the Personal Child Health Record (the 'Red Book').
If you cannot confirm your vaccination status, the vaccination team will be able to check records on the day of the visit. They will also be happy to answer questions about the vaccinations.
It is important to make an informed decision about whether or not to receive these vaccinations. To find out more about the vaccines visit the Public Health Agency website.
If you wish to discuss further please contact the Western Trust Vaccination Team 028 7134 5171 – Ext 215465.