Later Years
Staying Healthy in Later Years
There are 38,613 older people (65+) living in the Western Trust area representing 12% of the total population, 4,211 of these are aged over 85 years.
This can be summarised as follows:
Area Population size
Londonderry/Derry: 12,852
Strabane: 5,587
Limavady: 4,235
Northern Sector: 22,674
Omagh: 6,715
Fermanagh: 9,224
Southern Sector: 15,939
The Inequalities in Health Behaviours Research suggests that:
• Rates of smoking among people aged 50+ are similar in NI (18%) and ROI (17%)
• Low levels of physical activity are more common among people aged 50+ in NI (54%) than in ROI (30%)
• The proportion of older people who drink 5-7 days per week is higher in ROI (10%) than in NI (6%)
• In the population aged 50+ smoking rates are higher in both NI and ROI among those on low incomes
• Regular Alcohol consumption is more common among those on high incomes.
• People aged 50+ who are widowed, separated/divorced or never married are more likely to smoke and to have low levels of physical activity, particularly in NI
• Being unemployed/disabled is a major factor in both smoking and low physical activity in both ROI and NI
Preventing Falls in Later Years
Older people are more likely to attend Accident and Emergency Departments with injuries as a direct result of falls in the home.
Tips to help reduce falls at home:
• Keep the hall and stairs well-lit at night
• Turn on the light if you have to get up during the night
• Change the layout of the room or get someone to move bulky furniture if it keeps getting in the way
• Clutter and mess in your home causes falls, tidy your floors, especially the stairs and halls
• Lift mats or rugs if they are frayed or turned up at the edges and make sure the mat has a non-slip backing
• Slippers that are not the correct fit and high heeled shoes can cause falls
• Don't take any unnecessary risks at home – ask others to help
• Use non-slip mats in the bath or shower
• Keep the garden and outside paths clutter free
• Get your eyesight tested once a year
• Have your medication checked regularly by your GP or pharmacist
• Eat a balanced diet that includes calcium and vitamin D to keep bones strong
• Keep active to reduce your risk of falling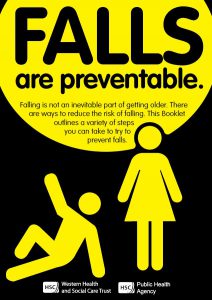 Training and Resources
• The Health Improvement Department deliver and support a number of accident prevention initiatives and have developed a 'Falls are Preventable' information booklet for elderly people.
• An A4 full picture information sheet has been developed, called 'The up and about Plan' shows what to do if you have a fall.
Eat Well in Later Years
As people get older their nutritional requirements change. For further information go to the Eat Well section.
Be Active in Later Years
Physical activity can help you stay fit and healthy as you get older. Many adults aged 65 and over spend, on average, 10 hours or more sitting or lying down every day. As you get older, it becomes even more important to remain active if you want to stay healthy and maintain your independence. For further information go to the Be Active section.
Additional information on staying healthy in later years can be found below:
• Fold telecare
• Age NI 
• The National Osteoporosis Society
• Home Accident Prevention NI
• Drink Wise Age Well Programme  
• Over 65 Falls Prevention, 'Stepping On' Programme