Health Inclusion Hub for Homeless opens in Derry City Centre
21/06/2023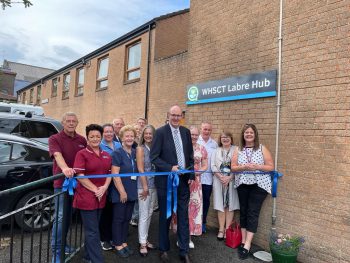 We have officially opened a Health Inclusion hub in Derry City Centre, to meet the needs of people experiencing homelessness. The new hub, which opened on 20 June 2023 has been named 'Labre' after the Patron Saint of the homeless and was chosen following input from Service Users.
The new health hub provides the foundation to bring services out of the clinic setting, into the community, to wrap care around the people who need it most, where they need it. This will include nursing and podiatry services, alongside physical and mental health care and addictions services for those sleeping rough, or in hostel accommodation or non-standard accommodation.
Officially opening 'Labre' Western Trust Chief Executive Neil Guckian said:
"This is a new milestone in the provision of healthcare within our Trust area, bringing services into the heart of the community to care for some of our most vulnerable Service Users.

"I would like to thank and pay tribute to our incredible staff for the outstanding care and support they provide. Their vision and commitment to improving the health and wellbeing of Service Users is exceptional.
Paula Devine, Assistant Director of Primary and Community Care said:
"The Trust identified the need for a very specific specialist health service to meet the complex health needs of people experiencing homelessness. Since then the provision of this new service has illustrated how health care transformation can make a real difference to people's health and their health outcomes.

"Our goal is to break down barriers faced by people who are homeless in accessing health and social care. Our Homeless Health Team are already well established in the city and this permanent hub will further enhance access to all health services for those experiencing homelessness and assist in improving continuity and follow-up for homeless clients."