Health and Wellbeing event for people diagnosed with lung cancer
25/11/2022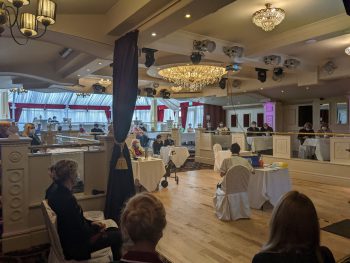 Wewere delighted to host a health and wellbeing event at The Belfray Country Inn, Derry/Londonderry, for people who have been diagnosed with lung cancer.
The event provided patients and their family members expert advice from healthcare professionals and the opportunity to ask questions, to help support individual health and wellbeing along with information on local cancer support services.
Key speakers at the event included; Dr Malek -Consultant Clinical Oncologist, Ania Foley- Clinical Psychologist, Patient and loved ones voices, Martha Magee- Macmillan Information and Support Service, Laura McClintock- Palliative Care Nurse Specialist, Elaine Johnston- Oncology Physiotherapist, Ann Mc Sorley- Oncology Dietician, Dr Olinda Santin- Cancer, Caring and coping website (Queens University), David Curtin- Macmillan Cancer Rehabilitation Project Manager.
There were also information stands provided by the local cancer charities to include representation from the Trust's Macmillan Information and Support service, Health Improvement Department, Pink ladies/Pink panthers and Cancer Connected Communities West.