Health and Wellbeing event a wonderful day for Foster Carers
07/10/2021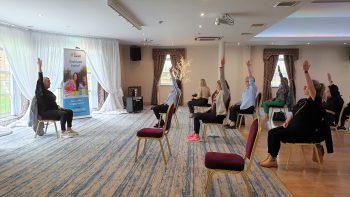 The Western Trust Fostering Team held an inspiring health and wellbeing event for Foster carers this week at the Waterfoot Hotel, Derry/Londonderry.
After welcoming Foster carers to the health and wellbeing event Clare McCallion, Western Trust Service Manager of Women and Children's Services said:
"We were delighted to see so many of our Foster carers join us and come along to our health and wellbeing event in Derry/Londonderry.

"This event represented an important opportunity for us to meet up with our Foster carers in over a year due to the Covid-19 pandemic and we wanted to acknowledge the difficulties everyone has faced during this time.

"The event was about acknowledging the important role fulfilled by our Foster carers who provide moment by moment care to children and to reaffirm that without them we would be in a very difficult place. As a Trust is was important that we thanked them for all that they have done, and continue to do for our children and young people."

"We also wanted to acknowledge our Fostering Team colleagues for their hard work behind the scenes and to all our contributors and partners who have volunteered their time and skills to ensure this event was as successful as it turned out to be.

"For example, we had hairdressers, make-up artists, reflexology; Earseeds Therapy, chair yoga and Zumba for Foster carers to enjoy and all were encouraged to take some time to get some well-deserved relaxation and pampering! We also wish to thank our incredibly generous sponsors Groogans Ltd, Dungiven and Glenkeen Furnishings, Derry/Londonderry for donating gifts and raffle prizes for our Foster Carers.

"We would encourage our Foster carers to talk to their family and friends about their fostering journey and anyone who you think would consider becoming carers themselves. We acknowledge how important it is to retain our current Foster carers who loving care to children and to continue to recruit new Foster carers.

"We need ordinary people who are willing to open up their hearts and homes to provide care to other people's children. They are required to offer a safe and secure home where children feel valued, respected and cared for. For some children and young people this will be for only a short period of time, whilst others require a home for a longer period.

"The need is huge here in Northern Ireland and we appreciate it's not a decision which can be taken lightly. Fostering is a commitment which requires careful consideration and we know from experience that it throws up many questions and potential barriers. With our new campaign we are taking a transformative approach to break down these barriers, to answer questions and provide information, training and support even before any commitment is made.

"The key message is that if anyone is even thinking about fostering, we would love to hear from them. We are aiming to make that as easy as possible with a single hotline (0800 0720 137). Our team are here to answer any questions, to allay concerns and to provide support for these really important carers."
Geraldine Edwards a Foster carer from Strabane who attended last week's event at the Mellon Country Inn, Omagh said:
"I am here today at this wonderful event, we are all having a great day, getting pampered and her hair and make-up done and meeting up with other Foster parents. If anyone is considering fostering I would really encourage you to find out more. We have two beautiful children with us five years and they just light up our home so if you are thinking about fostering please go for it and get in contact with the Fostering Team!"
HSC Northern Ireland Adoption and Foster Care welcome enquires regardless of race, religion, language, culture, gender, disability, age or sexual orientation and they provide 24-hour support to all foster carers on an ongoing basis.