Friends Together Choir to perform a Spring Concert in aid of the NI Children's Hospice
10/05/2023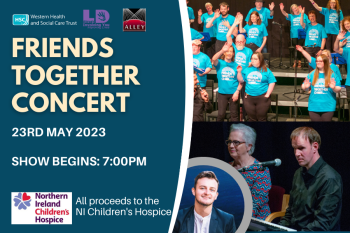 Following the success of their Summer Concert in 2023, the Western Trust Adult Learning Disability Choir, 'Friends Together', is delighted to announce a further Spring Concert compered by local X Factor singer Conor McGinty along with a few surprise guests who will be performing a number of songs on the night.
The Concert will take place on Tuesday 23 May 2023 at 7pm in the Alley Theatre, Strabane.  Tickets cost £5 with the proceeds being donated to the NI Children's Hospice and can be booked through the Box Office on Tel: (028) 71384444.   
Christine McLaughlin, Assistant Director of Adult Learning Disability Services said:
"The Friends Together Choir has brought physical and emotional benefits for it's members across the whole of the Western Trust as they engage in the shared activity of singing. It has given everyone involved a wonderful opportunity to connect with friends, have fun and increase confidence. The Friends Together Choir would like as many people as possible to join them and support this worthwhile charity. We look forward to welcoming you to the Alley Theatre on 23 May 2023 in which will no doubt be a fantastic concert!." 
For more information please contact Margaret McDaid, Community Access Worker on M: 07903078026 / email: MargaretS.McDaid@westerntrust.hscni.net or through the Box Office on Tel: (028) 71384444.