First Overnight Elective Procedures to commence in South West Acute Hospital
19/01/2023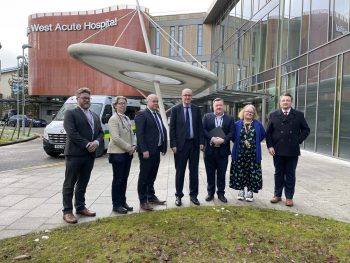 We are delighted to commence the first of our regional overnight elective procedures at South West Acute Hospital, Enniskillen in the coming weeks. This follows the announcement by the Department of Health in November 2022 that South West Acute Hospital would become a regional Elective Centre for patients requiring inpatient stay following planned surgeries.
Commenting on this exciting development, Western Trust Chief Executive, Neil Guckian said:
"This is a positive step forward in the development of the overnight elective care centre at the South West Acute Hospital. This confirms the commitment of the Trust to fully utilise all of our theatre capacity across SWAH to benefit the growing numbers of patients on waiting lists.

"SWAH is an essential part of the Western Trust's hospital network, serving the population of Fermanagh, West Tyrone and far beyond. We are very proud of the high quality and wide range of specialities provided by our very dedicated staff at South West Acute Hospital.

"I would like to pay tribute to our surgical teams and wider staff teams for their continued commitment and flexibility particularly in the past number of months. I would also like to thank the Consultant General Surgeons who have commenced the initiative for elective overnight stay gallbladder surgery on the South West Acute Hospital site."
Neil added:
"I understand the concern felt by the local population of Fermanagh and Tyrone following the temporary suspension of Emergency General Surgery at the hospital, however, the development of the Elective Overnight Stay Centre carrying out general surgery procedures will ensure a general surgical presence that can provide support to other specialties."

Peter May, Permanent Secretary Department of Health welcomed the news: "This is an important and welcome development and highlights the extremely positive role that SWAH can play as an elective overnight centre."
Prof Mark Taylor, Chair of the Review of General Surgery, will be the first visiting surgeon from another Trust to operate at the Elective Overnight Stay Centre.
Prof Taylor said:
"I very much look forward to carrying out surgery in the South West Acute Hospital. It is essential that we utilise all existing capacity to continue the recovery of elective surgery. Too many people are sitting on long waiting lists and we know such individuals are willing to travel. The Review of General Surgery also pledged that surgeons would travel in order to greatly improve the situation with elective surgery. The theatres are first class in SWAH and I and my colleagues look forward to working with such a dedicated staff going forward."