Family Nurse Partnership Programme celebrate 10th Anniversary
04/11/2020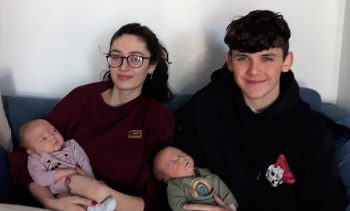 The Western Trust in partnership with the Public Health Agency (PHA) are delighted to celebrate the tenth anniversary of our successful Family Nurse Partnership Programme.
The programme commenced in the Western Trust in October 2010, with the aim of helping promote positive mental health and wellbeing in childhood.
Family Nurse Partnership is an evidence-based, preventive programme offered to young mothers having their first baby. It begins in early pregnancy and is primarily focused on the future health and well-being of the child, as well as the future economic self-sufficiency of the parents. The programme initially delivered in Londonderry/Derry and surrounding areas, has now been extended to the Omagh and Enniskillen areas, where it has been very well received.
Monica Martin, Family Nurse Partnership Programme Supervisor explains: "What happens during pregnancy and in the first years of a baby's life has a major influence on his or her subsequent behaviour, education, employment, health and other life chances. Family Nurse Partnership helps young parents deal with common insecurities, giving them a place to turn if they are struggling or need advice. Parents receive regular home visits from a specially trained Family Nurse.
"This innovative programme has achieved positive outcomes for both parents and children including improvements in antenatal health; improved parenting practices and behaviour; reduction in childhood injuries, neglect and abuse; fewer subsequent pregnancies and greater intervals between births; increased maternal employment and reduced welfare use and increased father involvement.
Monica continued: "The Western Trust remains committed to early intervention, giving every child the best start in life. In the last ten years 387 clients have participated in the Family Nurse Partnership programme and 234 have completed and successfully graduated from the programme. It is such a privilege to lead a team of dedicated healthcare professionals who have worked tirelessly with young families in the local community to ensure the success of this wonderful programme. On behalf of my colleagues I would like to thank all the parents who have been involved in this programme over the past ten years and wish them continued success in their parenting journey."
New parents Kate Hutton and Ben Bradley Knox who receive support from their Family Nurse Kathleen McDevitt said: "We are very grateful for the support we have received from Kathleen. We get a lot of support from our parents but it is nice to see Kathleen on a fortnightly basis as she provides much needed reassurance on our babies development. She is not there for our daughter's Una and Sadie but also to support myself and Ben as new parents. Thank you Kathleen for your continued encouragement and kindness it is very much appreciated."