Eimir Martin is named Student Midwife of the Year at the Queen's University Belfast Midwifery Society Mentor Awards 2020
12/05/2020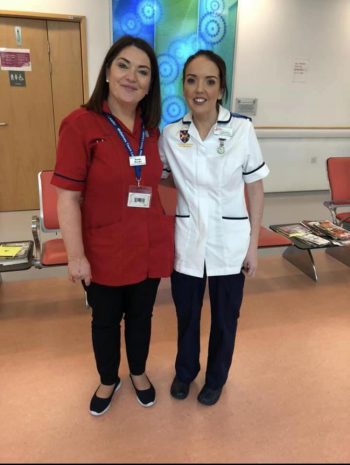 Western Trust student midwife Eimir Martin is named Student Midwife of the Year 2020 at the first virtual QUB Midwifery Society Mentor Awards held this week as part of the International Day of the Midwife celebration events held across the world on Tuesday 05 May 2020.
Eimir is from Lisnakea and received her workplace learning with the Midwifery Team at the South West Acute Hospital, Enniskillen and the Community Midwifery Team at Omagh Hospital and Primary Care Complex has been honoured for her dedication and commitment to her role as student midwife over the past three years.
Brenda McCabe, Western Trust Community Lead Midwife who nominated Eimir said: "I am absolutely thrilled and delighted that Eimir has received the honour of Student Midwife of the Year from Queen's University.  The first time I met Eimir when she was starting out on her journey to become a midwife I knew we had a very special person who was going to make an incredible midwife!
"Eimir epitomises what a midwife should inspire to be – she is an absolute dream to mentor and on behalf of myself and the midwives in the South West Acute Hospital I wish to pass on our congratulation and best wishes and we look forward to working alongside Eimir as she begins her career in midwifery!  Well done Eimir you a superstar!!
What makes this honour more special is that mum's took the time to express their gratitude to Emir who assisted them during childbirth and how her quiet, confident way of carrying out her role made their experience calm and special.
Eimir said: "I am so proud to be nominated for student midwife of the year never mind win it! I am the lucky one getting to care for women during one of the post special times in her and her baby's life and guide a new life into the world, seeing a baby take his/her first breath is magical. I;m also so lucky to have been trained and supported by the best mentors and midwives in the Western Trust including Brenda and Rachel and I have made many friends during my journey to becoming a midwife. Thank you to all the midwives who have supported me at the South West Acute Hospital and Omagh Hospital and Primary Care Complex you are truly inspirational.
One mum Laura McManus commented "Eimir helped deliver my baby son James with such confidence and compassion. I would want Eimir by my side every time to experience that magical moment, her care and desire to ensure you get the delivery you want is what makes her special. She carries out her job with such love, we are blessed to have a midwife life you Eimir!"