District Nursing Service launch poster campaign for patients requiring Palliative Care
18/06/2020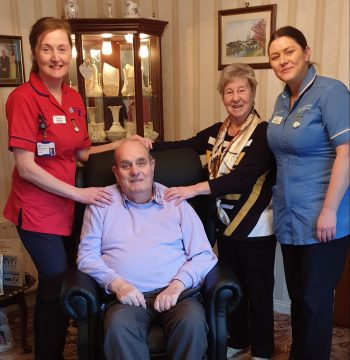 The Western Trust District Nursing Service are delighted to launch a poster campaign which highlights the wonderful service provided by the District Nursing Teams and other health professionals across the Western Trust area who provide palliative care, treatment and support for people with a life-limiting illness. This was due to be launched in March this year, however, due to the COVID19 Pandemic it was put on hold.
Claire Cartin, Primary Care and Community Coordinator for the Western Trust explained: "The District Nursing service provides safe and effective evidence based care to people in their own homes across the Western Trust. In the majority of cases the District Nurse is the identified keyworker for patients requiring palliative care within the adult community setting. They also provide support to patient's family and friends."
Claire added: "We are delighted to launch this poster with the help of Omagh patient Mervyn Allison and his wife Irene who kindly agreed to support our campaign. Mervyn and Irene have been very complimentary of the service provided by our staff and we very much appreciate their support. The posters will be displayed in all GP surgeries, hospital wards and health care facilities across the Trust area to help raise awareness to the general public of the invaluable service provided by our district nurses."
Irene Allison said: "From day one the District Nurses have been there to support me as well as my husband Meryvn. I have peace of mind because I know that if I have a problem or concern they are at the end of the phone and will be with me as soon as they possibly can. To me their support is invaluable. Even during the COVID19 pandemic the District Nursing Team have been here to support us both – they might look a little different in PPE equipment, however, they continue to go the extra mile to provide the best care and support. We are indebted to their professionalism and dedication. They are and exceptional team and we can't thank them enough for all they have done for us over the past number of years."
Claire continued: "We are grateful for the support of our GP colleagues and community and voluntary sector who continue to provide care and support to patients requiring palliative care, particularly during the global covide-19 pandemic.  This campaign will help  ensure patients have continuity of care, know how and where to access information and advice and also help people to be cared for in their preferred place of care where possible, whether that be in their own home or care home. Thank you to Dr Ciara O'Neill, Macmillan Specialist GP; Dr Frances Robinson, Specialist Palliative Care Consultant; Marie Donnelly, Macmillan Palliative Care Facilitator; Janet Kilfeeder, NI Hospice; Foyle Hospice; Ann McSorley, Specialist Dietitian and Alison Sweeney, Marie Curie for supporting our campaign.
If you would like any further information please contact Claire Cartin, Primary Care and Community Co-ordinator T: 028 8167 2840 or email: Claire.cartin@westerntrust.hscni.net