COVID19 Vaccine Programme hits 35,000 Milestone
05/02/2021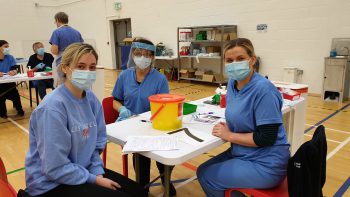 The tireless efforts of Health Professionals across the Western Trust area are delivering excellent results with the announcement that 35,000* COVID19 vaccines have been delivered, by the Trust, to people (over 10% of Western Trust area  population) across the 3 Vaccine Centres and the Care Home Sector .
The 35,000 plus vaccines delivered have been due to the coordinated efforts of the Western Trust teams in collaboration with Multi-Agency groups and are in addition to the vaccines delivered by GPs, who continue to vaccinate the general population in the priority groups, as set out by the Joint Committee on Vaccinations and Immunisation.
This welcome milestone comes days after the Department of Health (DOH) launched a telephone booking line (0300 200 7813) for vaccination appointments to complement the existing online service. The move is designed to help improve accessibility now the vaccination programme has opened to those in the 65-69 age group.
The Trust is  part of the largest mass vaccination programme ever undertaken by the NHS.  This programme is led by Department of Health in Northern Ireland and  the Western Trust is operating three vaccination centres, located at Foyle Arena Derry/Londonderry, Omagh Leisure Centre and Lakeside Leisure Centre, Enniskillen and delivers up to 1000 vaccinations per day, with a high of 1417 vaccines delivered across vaccine centres and care homes in one day.
Commenting on the hugely successful  vaccination programme, Western Trust Director of Human Resources and Vaccine Programme Lead, Ann McConnell, said: "I am delighted that we have achieved delivery of 35,000 vaccines across the Trust area since the programme began in mid-December 2020."
"This has been achieved through the hard work and dedication of Trust staff and retired clinical and administrative staff who have returned to join our rollout.  To date we have delivered vaccines in Care Homes, Supported Living Units and at our three Mass Vaccination Centres."
"Although we are happy to have hit this significant milestone we are not complacent about the scale of work that still lies ahead.  Adherence to social distancing, wearing of face masks, hand hygiene and adherence to COVID restrictions remains as important as ever."
"As a Trust we will continue to support the Department of Health rollout plan and with the capacity we have built, which enables us to deliver an average of 1000 vaccinations per day,  we believe we are well organised to do so."
Anyone invited to attend one of the Mass Vaccination Centres  is reminded to wear a face covering (unless exempt for medical reasons), adhere to social distancing rules and bring along  their booking reference number, ID and, if possible HSC number..
GPs across the Trust area are also rolling out the vaccine programme and are vaccinating those in the over 70s category currently  GPs are making contact directly with patients in this age group and therefore there is no need to phone the practice directly nor to try to book on line.