COVID-19 Anniversary is marked with warning against complacency
19/03/2021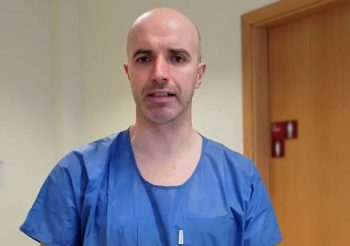 On March 11th 2020 the World Health Organisation (WHO) officially declared Covid-19 a global pandemic.
Now one year on and with much more cause to be positive due to the ongoing success of the mass vaccination programme, we are asking people across the Trust Area not to become overly complacent.
As the weather begins to improve and with the possibility of the loosening of restrictions seemingly within reach there is concern that many will become less thorough in the implementation of the basic anti-covid measures, such as washing hands, wearing face coverings and maintaining social distancing measures.
GP Associate Medical Director at the Western Trust Dr Ciaran Mullan said:
"On March 11, 2020, the world was shocked with the news the WHO had declared Covid-19 a global pandemic and almost immediately we had to change almost every aspect of our lives.

"One of the most important ways that we adapted was in how we became responsible for ourselves and each other by washing our hands, wearing face coverings and adhering to social distancing measures."

"These simple actions have been arguably the most important in tacking the spread of Covid-19 throughout out our communities.

"As a Trust we would like to highlight that it is still important that people don't forget about this simple tasks due to a sense of complacency, weariness or even optimism due to the success of the vaccination programme to date."
Although overall infection rates are going down there are still pockets of resistance across Northern Ireland and with the presence of asymptomatic carriers and more contagious strains it is still important to minimise the potential risks of outbreaks by remembering the basic techniques.
The anniversary comes in the same week of the news that Northern Ireland is set to receive a large consignment of Covid-19 Vaccine which will help escalate the vaccination programme even further.
The news was announced earlier this week by Health Minister Robin Swann, who said that two batches of the vaccine are expected in the coming days and that we will "start to move some of our regional vaccination centres over to AstraZeneca away from Pfizer because we have indications of a significant delivery of AstraZeneca coming this week".
The Western Trust is operating three vaccination centres, located at Foyle Arena Derry/Londonderry, Omagh Leisure Centre and Lakeside Leisure Centre, Enniskillen.
Those who  meet the eligible criteria for vaccination can now book their place by visiting the online booking portal https://covid-19.hscni.net/get-vaccinated or by calling the regional booking line on 0300 200 7813 from Monday to Friday from 8.30am to 5.30pm.
Those within the Western Trust area can also call the local booking line on 028 7161 0753.
Anyone invited to attend one of the Mass Vaccination Centres is reminded to wear a face covering (unless exempt for medical reasons), adhere to social distancing rules and bring along their booking reference number, ID and, if possible HSC number.