Congratulations to Social Worker Nicola Young on her prestigious UK Award
03/11/2020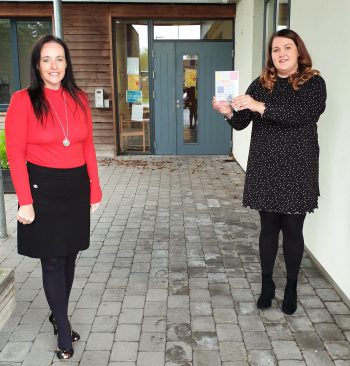 Congratulations to Social Worker Nicola Young on her prestigious UK Award.
Nicola Young from Omagh received the Fostering Excellence Award for Outstanding Contribution by a Social Worker at a virtual awards ceremony organised by the Fostering Network.
Julie Wilson, Service Manager Family Intervention Team said: "I am absolutely delighted and immensely proud of my colleague Nicola. Nicola is the first Social Worker in Northern Ireland to have ever won this award – what an incredible achievement!
Julie added: "Nicola started her first placement as a student Social Worker in the Family Intervention Service Enniskillen in January 2013 with me as her Practice Teacher. Nicola was my first student and whilst I was mentoring her I was also being observed by my Practice Assessor. This was unique in that from the get go we had a real understanding of each other's experiences. Nicola finished her placement in May 2013 and returned to work in the Family Intervention Service as a qualified Social Worker later that same year with me as her manager."
Nicola Young, Social Work Manager said: "Julie has managed me at three different stages in my career as a social work student, social worker and now as social work manager. I firmly believe that it was Julie's mentorship when I was a student that has given me the courage and belief in myself, which has got me to where I am today. At the time this was very overwhelming, however, looking back it shows the commitment and effort from Julie towards me from day one.  Julie is a great teacher and I have been very lucky that I have learnt from the best. I am forever grateful for the faith she has in me and the support and guidance she has given me."
Speaking about her nomination for this award Nicola said: "The young person who nominated me for the award along with his siblings will always have a particular place in my heart. I was allocated this case on the first day of my career. On a professional level this was a very difficult case for me however, it has also been very rewarding. Despite the trauma family's face, it can be such a challenging and difficult time for children and young people to be removed from their parent's care and at times not enough credit is given to our young people for the bravery and resilience they show. The young person who nominated me for this award wrote me a letter on his 18th birthday – his achievements are truly incredible and I understand he has recently started a course at University. I just want to say I am privileged that this young person, let down his barriers and trusted me to help him during what was undoubtedly a very difficult time for him.
"I would also like to pay tribute to the work of our Foster Carers and the important role they play. I have seen first-hand the difference they can make to the lives of children and young people and the opportunities they provide.
"I also would like to thank my husband, kids, parents and other family members for the support they have given to me. I would not be able to do my job without the help and support of so many great people around me. Thank you for your continued support and encouragement it is very much appreciated."