Communications Strategy launched for Adult Learning Disability Services
22/11/2018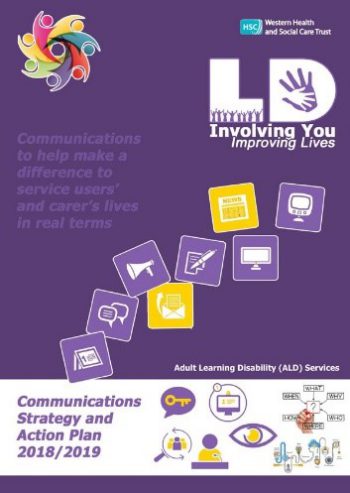 As part of the Personal and Public Involvement Process for Adult Learning Disability Services, the Advisory Involvement Partnership Group launched a comprehensive Communications Strategy for the entire service this month. This strategy was developed and produced by a Communciations Work-Group (details below) and the Strategy is available in full to view on the link below.
A major part of the work carried out by this Communications Workgroup was in the development and implementation of this new-look ALD Services online Hub. Full details of how the new Communciations processes will work and be implemented will be presented to the five Local Involvement Groups at the upcoming meetings in November 2018.
The Western Trust organised a series of workshops in March 2017 and following this saw the production of a 'Summary & Feedback' report on the Speakeasy sessions by Anne McMurray. From this report it was highlighted how important a more structured and streamlined communications process would be to aid improvement in Learning Disability Services.
A further series of Workshops followed in October/November 2017 across the Western Trust region to further develop the Involvement planning process and a report produced at these events highlighted the ways in which Service Users and Carers wished to be communicated with.
See Full Executive Summary Report online
Following the Workshop Events and from recommendations in the Anne McMurray report, the Western Trust appointed an independent PPI facilitator, Julie McGinty, at the beginning of December 2017, to co-ordinate the Involvement process.
Following this a Communications Manager, Chris Curran, was also appointed at the end of December 2017, to manage the Communications planning process in conjunction with a Communications Sub-Group, reporting to the overall Advisory Group.
This Communications Sub-Group met for the first time in January 2018 and, following a series of meetings and actions,

have looked at the Communications Process with the objective of achieving a robust Communications Strategy to enhance the communication and promotion of the overall involvement process for Adult Learning Disability Services going forward in 2018 and beyond.
The work completed, and which will continue in 2018, is broken down and categorised in the Communications Action Planning section of this Strategy:
The Adult Learning Disability Services Communications Strategy 2018/2019