Cityside Health and Care Centre
31/03/2021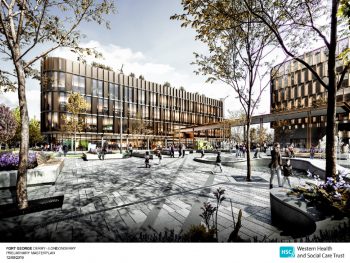 The Western Trust today welcomed the decision by the Department for Communities Minister to agree to the sale of part of the Fort George site to the Western Trust.  This will now facilitate plans for the Cityside Health and Care Centre at Fort George, bringing together GP and associated healthcare services in an integrated model.
Today's news follows the recent Department of Health 1st stage approval of the Outline Business Case for £5.4m of a potential £70m investment by the Trust at this city side location.  Both decisions now allow the Trust to progress site acquisition for the necessary parcel of land at Fort George and agreements on other relevant planning aspects to ensure progression of detailed design and preparation of tender documents.
On completion the development will see the relocation of approximately 450 existing posts, which will further enhance the co-location of GP and Trust multi-disciplinary teams including nursing, social work, allied health professional, mental health and administrative posts, and with a further 250 newly created posts being centred at this location.  The new centre will also enable both Trust and GP Medical Practices to expand and enhance local medical and social care service needs currently delivered from existing constricted and widely dispersed accommodation throughout the City.
Sp
eaking after the announcement Dr Anne Kilgallen Chief Executive of the Western Trust welcomed the approval by Department of Health for 1st stage of the business case and the agreement of Department for Communities to facilitate the sale of a portion of the Fort George site to the Trust.
She went on to say that "today's news is an important first step in the development of   the Cityside Health and Care Centre which will provide enhanced health care throughout the City, whilst also facilitating the wider economic development of the region through the creation of new permanent health posts and temporary construction jobs during the building of the facility".
The Western Trust plan to complete detailed design and tender preparation within 28 months.  Progression to tender and award of the construction contract will however be dependent upon a 2nd stage approval being granted by the Department of Health and affordability at that time.
The Health and Care Centre is a priority project within the Department of Health's Primary Care Infrastructure Development (PCID) programme which is an essential element of the transformational agenda for health and social care.