Chief Executive Launches Carers Week 2023
08/06/2023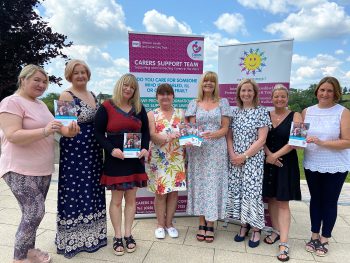 The Western Trust Chief Executive Neil Guckian is delighted to launch Carers Week 2023 (12 to 18 June 2023) with the return to face to face events and publication of the newly revised Western Trust Carers Handbook.
Launching Carers Week 2023 Western Trust Chief Executive Neil Guckian said:
"I am privileged on behalf of the Corporate Management Team to launch this year's Carers Week and the publication of the revised Carers Handbook. Carers Week is an opportunity for the Trust and other stakeholders in the community and voluntary sector to acknowledge the incredible care and support unpaid carers provide to their loved one each and every day. I wish to first and foremost, thank all the unpaid carers who provide support and care for a loved one across the Western Trust. Carer's week is an opportunity to celebrate caring and highlight the amazing work you do. We recognise that post pandemic it has been extremely challenging for carers and their loved ones and we are indebted to our carers for going above and beyond in difficult circumstances and I wish to say a huge thank you to them for everything they do."
Mr Guckian continued: "I would like to take this opportunity to thank the carers support team; Cathy Magowan Carers Coordinator, Geraldine McLaughlin Carers Development Worker and Caroline Rooney who provides valuable admin support for the team. The team work hard all year round providing Carers with information, sign-posting and a range of activities both online and in person.

Speaking about the newly revised Western Trust Carers Handbook, Mr Guckian said: "Later in the week the Carers Support Team will be launching the new Carers Handbook. This is an extremely valuable resource designed to support our unpaid carers who look after family, partners or friends in need of help because they are ill, frail or have a disability, particularly if you are new to a caring role. I would like to congratulate the Carers Support Team, Health Improvement, Western Trust staff and the Carers who contributed to this excellent resource. Thank you."
Cathy Magowan, Carers Coordinator for the Western Trust said:
"As part of Carers Week the Trust Carers Support Team is delighted to see the return of our popular health and wellbeing events for carers. This is a much needed opportunity for carers to come together, have a chat and enjoy some well-deserved pampering and a delicious meal.
Our unpaid carers were invited to attend events on:-
06 June 2023 at the Killyhevlin Hotel, Enniskillen
08 June 2023 at the White Horse Hotel, Derry/Londonderry
14 June 2023 at the Mellon Hotel, Omagh (evening event)
"A carer is someone, who without payment provides help for a relative, friend or neighbour who could not manage without this support. The support can range from doing shopping, collecting prescriptions, taking the cared for person to appointments, meal provision or personal care. It can be isolating being a carer and therefore we encourage carers to connect with the Western Trust Carers Support Team.

"The Carers Support team maintain a carers mailing list which aims to keep carers informed with up to date information. The newly revised Carers Handbook will be available to unpaid carers, giving them access to a supportive resource which helps them to explore the services available to them and how to communicate effectively with other people to help support their needs – which will improve their own health and wellbeing and that of the person they care for. This free booklet will be circulated in Trust facilities, GP Surgeries and community pharmacies across the Western Trust area so please pick up a copy and keep in a safe place to have on hand when you need to find out more about supports available for carers.

"The team deliver a range of activities either face to face or virtually to assist carers in maintaining their own health and well-being throughout the year and we would encourage our carers to take some time out of their caring roles to participate in some of the wonderful programmes. It is very encouraging to see so many of our carers who have continued to care for their loved ones and have embraced many of the online support forums."

Cathy concluded: "Thank you again to each and every one of our carers for the care and support they provide on a daily basis. Please continue to stay safe and take care of yourself and your loved ones."
If you are an unpaid carer who looks after a loved one and would like information please contact the Carers Support Team, Cathy Magowan on (028) 6634 4163 Email: Cathy.Magowan@westerntrust.hscni.net
Or Geraldine McLaughlin, Carers Support Worker (028) 7135 5023 or Email: GeraldineAnn.McLaughlin@westerntrust.hscni.net