Celebrating Our Successes – Western Trust Staff honoured at Special Recognition Awards Event
06/04/2023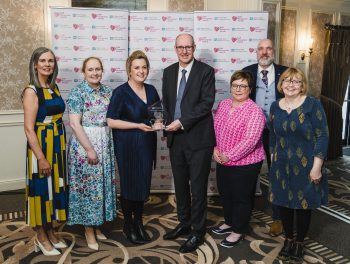 Staff across the Western Trust were honoured recently for the huge contribution they make to health and care services in the West.
More than 200 staff and guests, including award winners, colleagues and management from across the Western Trust joined together at a special ceremony held at the Silverbirch Hotel, Omagh on Tuesday 04 April 2023.
Awards were made in nine categories celebrating care, innovation, leadership and excellent services being delivered each day by dedicated individuals and teams.
Welcoming everyone to the Trust's Staff Recognition Awards ceremony Western Trust Chair Sam Pollock said:
"I am delighted to welcome guests to this wonderful celebration event today and look forward to hearing the many incredible innovative and inspirational nominations from individual staff and teams across the Western Trust who go above and beyond for patient/client care every day. Thank you for everything you do and congratulations on your outstanding achievement. Well done."
The Awards were compered by BBC Weatherman Barra Best. Department of Health Permanent Secretary, Peter May; Western Trust Chair, Sam Pollock, Chief Executive, Neil Guckian and Director of Human Resources and Organisational Development, Karen Hargan, presented the awards and certificates to the winners and those highly commended.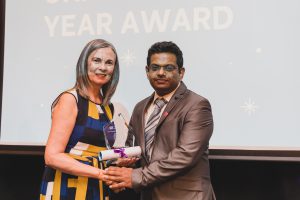 Chief Executive, Neil Guckian spoke about his gratitude and pride in being a part of such an incredible Trust family. He said:
"It is humbling to be amongst Trust colleagues who continued to evolve and improve our services and provide compassionate and quality care during such an unprecedented time for healthcare.

"Whilst it's great to recognise successes or significant achievements at our awards ceremony, I also think about the contributions our staff make on a daily basis. They've each delivered or supported care, faced new challenges and found alternative ways to overcome them. All this, whilst showing a continued commitment, loyalty and dedication to delivering the best services possible."
A new award was introduced this year to reflect patient feedback. The Patient/Service User Experience Award acknowledged Care Opinion comments and Complements received in 2022. The worthy winners for this category were the Altnagelvin and South West Acute Hospital's Emergency Department Teams, the Acute Care at Home Team, Derry and the Hospital at Home Team, Enniskillen.
Speaking at awards event Department of Health Permanent Secretary, Peter May, paid special tribute to the vital role played by health and social care staff in the West particularly during the Covid-19 Pandemic. He said:
"It is a privilege for me to attend this wonderful celebration event here today to express my heartfelt gratitude and thanks on behalf of myself and the Department and to congratulate the commitment and professionalism of health and social care staff in the Western Trust area.
He continued:
"The recipients of the awards are some of the very best people that the health and social care services have, and are examples of how individuals and teams in the HSC are working to deliver excellent services, which have the patient at their heart. The professionalism, dedication and compassion shown by the people working in health and social care services never ceases to amaze. The number of staff who go the extra mile to look after a patient or client, help a colleague, or develop better ways of working speaks volumes about the people that work in health and social care services at all levels."
Individuals and teams were nominated by their colleagues across the nine award categories, alongside the coveted Chair's award. Categories included; Championing Our Health Award, Frontline Champion, Improvement and Involvement, Leading the Way, Rising Star, Working Together Team Award and Supporting Our Services Champion Award. The long-term commitment and dedication of our staff was also recognised in the Lifetime Achievement awards.
This year recipients of Special Awards from across the Western Trust for were also invited to be recognised for their commitment to nursing, midwifery and social work including the Hilary Curry Cup for Cancer Services; Anona Clake Award for Midwifery; Joan Ross Award for Outstanding Social Work Practice; Nuala McLaughlin Award (Social Work) and the Patient/Service User Outcome and Experience Award.
Category
Highly Commended
Winner
Supporting Our Services Champion Award
Joanne Sloan, Clerical Officer, Day Procedures Unit, Omagh
Caroline Deeney, Physiotherapist Assistant, South Wing, Altnagelvin
Richard Donnelly, Housekeeper, Emergency Dept, Altnagelvin
Marian Mercer, Organisational Development Manager, Gransha
Jacqui Clifford, Clerical Officer, Shanthallow Health Centre
Claire Brown, Clerical Officer, NWCC, Altnagelvin
Frontline Champion of the Year Award
Mary Quigley, Substitute Prescribing Nurse, Woodlea, Gransha
Martha McColgan, Critical Care Nurse, Altnagelvin
Girish Shivashankar, Consultant Nephrologist, Altnagelvin
Niall Byrne, Social Worker, Strabane Health Centre
Betty Vance Lavigne, Staff Nurse, NNU
Rising Star Award
Alana McNeill, Social Worker, Review
Laura Storey, Residential Social Worker, Chapel Road, Derry
Working Together Team Award
Heather House Project Team
Crisis Resolution and Home Treatment Team
Sexual Health and Reproduction Team
Creggan Day Centre, Derry
Renal Team, Trustwide
Vaccination Team, Trustwide
Adult Psychological Therapies Service
Improvement, Innovation and Involvement Award
OT Recovery Service, Green Therapy Project, Grangewood
Early Intervention Team
Leading the Way Award
Edel Drumm, Pharmacist, SWAH
Sinead Marlow, Speech Therapist, Waterside Health Centre
Championing Our Health and Wellbeing Award
Chaplaincy Team
Dr Mary Dooher and the Clinical Health Psychology Team
Life Time Achievement Award
Carmel Cochrane, Community Midwife, Strabane
Maureen Miller, HOS, Midwifery
Collette Hegarty, Secretary, Maybrook Day Centre
Dr Jayne Porter, Retired Associate Specialist Community Paediatrics
Lorna Ackroyd, Principal OT Mental Health Services Grangewood
Martina Dempster, Snr Social Worker, Lead Drumcoo
Nicky Fallon, Social Worker and F&CC Manager, Shanthallow Health Centre (retired)
Siobhan McNeill, Hospital at Night Team, SWAH
Colin Cotter, Social Worker, Waterside Hospital (retired)
Dr Philip Gardiner, Retired Consultant Physician, Altnagelvin
Brendan Moore, Retired Principal Pharmacist, Altnagelvin
Denise Armstrong, HOS Women and Childrens
Joan Cunningham, Retired NNICU Nurse, SWAH
Tyga Gebler, Senior Social Work Practitioner, F&CC
Elizabeth (Betty) McFeeters, Nursing Assistant, Altnagelvin
Chair's Award
Chaplaincy Team Trustwide.
Hilary Curry Cup (Soroptimist Society)
Kerry Chambers, Uro-Oncology Nurse Specialist, NWCC
Hazel Templeton, Uro-Oncology Specialist Nurse, NWCC
Anona Clarke Award
Lisa McGill, Midwife, Altnagelvin
The Joan Ross Award For Outstanding Social Work
Martina Dempster, Snr Social Worker, Lead Drumcoo (retired)
Nicky Fallon, Social Worker and F&CC Manager, Shanthallow Health Centre (retired)
The Nuala McLaughlin Award
Scroggy Road Childrens Home, Limavady
Patient / Service User Outcome and Experience
Acute Care at Home Team
Hospital at Home Team
Altnagelvin Emergency Department Team
South West Acute Hospital Emergency Department Team