Carers Week 2022 #Making Caring Visible!
07/06/2022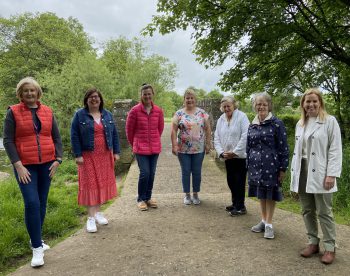 This year's Carers Week theme is 'Making Caring Visible.' 54% of the general public in Northern Ireland said they're more aware of unpaid carers now than before Covid-19 and 74% said they thought unpaid carers were not well valued.
Launching Carers Week 06 June to 12 June 2022 #Making Caring Visible Cathy Magowan, Carers Coordinator for the Western Trust said:
"Carers Week is an opportunity for us in partnership with other stakeholders in the community and voluntary sector across the Western Trust area to highlight and say thank you to the tremendous care andsupport unpaid carers provide to a loved one each and every day with this year's theme 'Making Caring Visible'.

A carer is someone, who without payment provides help for a relative, friend or neighbour who could not manage without this support.  The support can range from doing shopping, collecting prescriptions, taking the cared for person to appointments, meal provision or personal care. It can be isolating being a carer and therefore we encourage carers to connect with the Western Trust Carers Support Team. The Carers Support team maintain a Carers mailing list which aims to keep carers informed with up to date information. We also deliver a range of activities either face to face or virtually to assist carers in maintaining their own health and well-being throughout the year and would encourage our carers to take some time out of their caring roles to participate in some of the wonderful programmes.

As part of Carers Week the Trust Carers Support Team are facilitating a number of Carers Picnics for members of the Carers Walking Groups and a wonderful boat trip to Devenish Island, Co Fermanagh. This is a great needed opportunity for carers to come together, have a chat and enjoy a delicious picnic outdoors in their local park, weather permitting!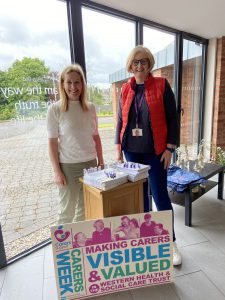 We are also are running a number of online sessions for unpaid carers in the Western Trust area, including Self Care for Carers, Consumer Rights and a virtual session with Carers Scotland 'Your Rights in Work' which will help working carers to find out what their rights are within the workplace. We really are incredibly indebted to our carers who have continued to care for their loved ones and have embraced many of the online support forums during these challenging times over the past two years due to the COVID-19 pandemic. We are very grateful for the ongoing support shown by our local communities who have donated their time and expertise to support all healthcare workers it is very much appreciated. It has been wonderful to see many of our carers having the opportunity to meet up with other carers face to face as restrictions have been lifted and we return to normal life again. Thank you again to each and every one of our carers for the care and support they provide on a daily basis.  Please continue to stay safe and take care of yourself and your loved ones."
If you are an unpaid carer who looks after a loved one and would like information please contact the Carers Support Team, Cathy Magowan on (028) 6634 4163 Email: Cathy.Magowan@westerntrust.hscni.net
Or Geraldine McLaughlin, Carers Support Worker (028) 7135 5023 or Email: GeraldineAnn.McLaughlin@westerntrust.hscni.net