Care Partner initiative having significant impact for Residents in Care Homes
05/03/2021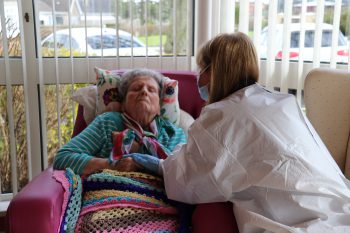 It is widely recognised the pandemic has had a significant impact on the health and wellbeing of residents living in a Care Home, and this has been highlighted following the very necessary, but painful decision to restrict visiting.
The Western Trust, in conjunction with the Department of Health (DoH) and Care Homes, have been working to find ways to enable safe visiting and the DoH have since released guidelines for visiting in a Care Home and for attending as a 'Care Partner'.
The Trust Care Home Support team have been working very closely with all Care Homes in the Western Trust area to help and support in this area and the success of the programme implementation is highlighted at Silverdale Care home in Castlederg.
Paula Devine is the Care Home Support Lead for the Western Trust and has been working diligently with all the Care home Support team to help enable safe visiting and implementing the Care home approach in Care Homes throughout the Western Trust area.
"We are delighted with the rollout of the Care Partner approach and this is something the Support Team have been working closely with Care Home to enable along with supporting other areas such as additional supply of PPE, Testing, Infection Prevention and Control and are delighted to have now seen the completion of the Vaccine programme, 1st and 2nd doses, throughout Care homes in the Western Trust area."
Sharon McMorron is a Care Partner to her mother, Morga Matthews, who is a resident in Silverdale Care Home, Castlederg, and has been delighted with the rollout of the Care Partner programme.
"We would always have visited my mum in Silverdale where she has received such great care but with all the necessary restrictions in place due to Covid-19, we were only really getting to see her from behind a screen. When the Care Partner scheme was introduced, I was delighted to get the opportunity to now come in as a Care Partner, as are all my family. This means so much to us. Mum has late stage alzheimers but I know that when she hears my voice she knows I am there and it means so much just to hold her hand and let her know that I am there to take personal care of her. Doing all the small things that we know is so good for Mum's wellbeing and being able then to feed back to my father and siblings means so much."
Alice Reynolds has been a resident in Silverdale Care Home for four years and now enjoys seeing her daughter, Susan Smith who is a Care Partner to her mother at the home.
"I would always have been in seeing mummy every day at Silverdale Care home until that had to stop due to COVID-19. The home are so good and put things like face-time in place at the time to communicate but my mummy has vascular dementia and it just wasn't the same but thankfully in recent months the opportunity to become a Care Partner was launched and I didn't have to be asked twice. In the early stages I would have been very apprehensive about the possibility of bringing Covid into the home but with the Home's support and training it has been fantastic and now getting my Covid-19 test every week has become as regular to me as brushing my teeth. I must say the whole experience has been very positive and it has been excellent coming into care for my mummy twice a week originally and now that is increasing too. Also the opportunity to have got the vaccine is another huge positive in all the support which has been given. I just feel so privileged to have been given the opportunity to be a care partner and now I have new hope for the future with all that is happening".
Geraldine Browne is Care Home Manager at Silverdale and been in the home for 25 years and has certainly found the past twelve months to be extremely challenging.
"The past twelve months has been extremely challenging for myself and all the staff. We seen the impact on residents of not seeing their relatives. We now have ongoing visiting in the home from Monday to Friday which is by appointment only with all the protocols in place to protect the residents, families and staff from infection and Covid-19. Visiting is seen as hugely important not just to the residents but to the families and staff as well."
On the role of care partners now in Silverdale Care Home, owner Roberta Brownlee commented:
"Prior to the COVID-19 Pandemic our families played a vital part in the care planning for their loved ones. So when it became necessary to restrict visiting in the Home, we moved to set up a conservatory area with a screen and all proper protocols in place to allow family to come and visit their loved ones. With very strict guidelines adhered to, our relatives have continued therefore to play a vital part in the care of our residents. Going into 2021 we have now moved on to have four 'Care Partners' in the Home and this has worked very well for everyone. The pandemic has meant difficult and challenging days for our home and we are indebted to the fantastic work by our manager, Geraldine Browne, and all our staff who have worked tirelessly to ensure we have remained a covid-free home for the past twelve months."
What is a Care Partner?
A Care Partner is a defined practical role to provide additional support to your relative in the Care Home. Care Partner arrangements are not for everyone. A Care Partner is complementary to the care delivered by the staff in the Care Home. It is individualised and tailored to the needs of the resident. A Care Partner is a close family member or friend who has a long standing relationship with a resident and plays an essential role on a regular basis on maintaining a resident's health and wellbeing. A Care Partner is in addition to visiting however it is important to highlight it should not be viewed as simply another opportunity to visit – A Care Partner supports their relative with an identified need such as encouraging them to eat and drink.
How can I become a Care Partner?
It is important the resident, relative and Care Home manager discuss the benefits of a Care Partner arrangement. The Care Home manager will support you and your relative to become a Care Partner. The Care Home Manager needs to explore with you the care required for your relative and how to safely manage any risks associated with the role.
It is important to recognise the role of the Care Partner is more than visiting the resident and therefore there are very important arrangements you will need to follow to ensure the safety of you, your relative, other residents, staff and the wider Care Home community.
 The Care Home Manager will undertake a Risk Assessment before you can become a Care Partner. In partnership with you & the resident this assessment will identify infection control risks, safety measures and training needs to ensure everyone is safe.
A Care Partner may be required to undertake a regular COVID-19 test to reduce the risk of transmission in the Care Home. Although testing provides some level of reassurance all other measures to reduce the risk of transmission must also be followed.
You will be required to agree a plan in relation to the Care Partner arrangement in order that expectations are clear, understood by you and the Care Home, and to ensure safety.
You will be required to agree the frequency and how long each Care Partner session will be. This requires consideration of the whole Care Home. If for any reason you are unable to attend it is important you inform the Care Home at the earliest opportunity.
You are required to adhere to social distancing arrangement throughout the Care Home (with exception of any tasks to support your relative), to wash your hands when required and on entering and exiting the premises. Hand sanitising will be available and is in addition to washing your hands.
Your Care Partner visits should be confined to the resident's own room as far as possible.
You must only enter and exit the Care Home through an agreed route and only meet with your relative in the designated location. If you require any assistance staff will be available to help you.
You are required to wear appropriate Personal Protective Equipment (PPE) for the period of time you are in the Care Home. This includes safely putting and taking off (sometimes referred to as Donning & Doffing) PPE. The Care Home will provide training on this process or you can access free training here.
You should not bring in food or treats to the resident. You should only bring items the resident needs and these should be identified to staff on arrival.
It is important to look after yourself and to be sure that you are well enough to take on this role. Being a Care Partner is rewarding however it can be an additional pressure on you and your family so if possible you can share the role with another family member; however only one Care Partner can attend at any given session. Children under 18 are not considered appropriate as Care Partners.
You will be required to advise the Care Home if you have developed any signs or symptoms of COVID-19; If you feel unwell you should not attend the Care Home and seek further guidance if you need to isolate. You may be asked to complete a survey on each visit. This may include recording your temperature to provide assurance you are well.
Full details of the Care Partner Programme can be found in the leaflets (PDF links) below: