Care Homes help "Boost" Vaccination Programme to 250k 
15/10/2021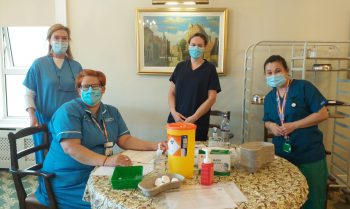 An incredible milestone of 250,000 COVID-19 Vaccination doses have been administered by the Western Trust.
And it is the huge contribution of 2000 doses administered to Care Home staff and residents over the past two weeks which has helped the Trust achieve the staggering quarter of a million dose figure since the programme began in December 2019.
The programme has been delivered via a number of different phases, from the initial Care Home vaccinations, to the Mass Vaccination Centres, mobile pop-up clinics and now back to the Booster programme for Care Homes, frontline staff, and the clinically vulnerable.
It's been a mammoth undertaking by so many personnel at all levels and from a wide range of professional fields, and Teresa Molloy, the Western Trust's Director of Performance, is quick to pay tribute to all those involved.
"We have just passed a very significant milestone in the vaccination programme which the Western Trust has been running for the past 12 months. We have delivered just over 250,000 doses, which is a quite remarkable achievement, and I would like to thank the wide range of people who have contributed to the success of our programme.

"There are too many to name, but they include our vaccinators, our pharmacists, our cleaners, porters our estates staff – and all of the partners who we have worked with in our Mass Vaccination Centres and in our clinics.

"It has been a colossal effort by everyone, and the challenge continues. Our programme has been ever-evolving to meet public demand, and that will continue to be the case. Vaccination remains the best way for us to protect ourselves and others, and I would urge all those who are eligible to receive a vaccine, or a booster vaccine, to do so."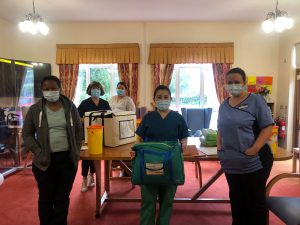 The Care Home booster programme has seen two mobile vaccination teams administer over 2000 booster jabs to residents and staff in over 30 homes in just two weeks.
All 60 care homes in the Western Trust area before the end of October, with a final figure of over 3000 jabs anticipated.
At present, the Western Trust are also rolling out the COVID-19 Booster Vaccination to frontline staff and those members of the public deemed as clinically vulnerable through hubs in the Altnagelvin, Omagh and South West Acute Hospital sites.
With the Big Jab Weekend 2 still to come this weekend, an event which will see the previous Mass Vaccination Centres at Foyle Arena, Omagh Leisure Complex and the Lakeland Forum reopen their doors for second doses, it continues to be an extremely busy time for the large team of people behind the Trust's vaccination efforts.
For the latest information on the Western Trust's vaccination programme please visit the Western Trust Vaccination Info page.
If you are planning to attend a vaccination clinic please do not do so if you:
Are currently unwell with a high temperature or fever

Have had a first positive test for COVID-19 in the last 28 Days

You have been advised to self-isolate

Had any vaccine (including flu) in the last 7 days.
Anyone attending a vaccination clinic is reminded to wear a face covering (unless exempt for medical reasons), adhere to social distancing rules and bring along their Health and Care Number (HCN) and photographic ID if possible.