Cardiology Services in the Western Trust continue to maintain excellent care throughout the COVID-19 pandemic
27/11/2020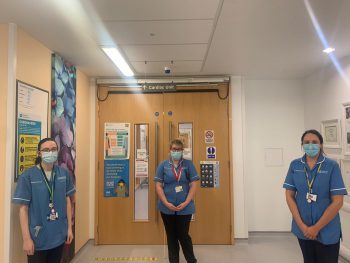 The COVID 19 pandemic has presented extremely challenging working conditions for health care providers, as well as to the community. There have been many changes in working practice brought on by the pandemic which continue to add to the complexity of looking after patients.
Despite these challenges, the Cardiology Departments across the Western Trust in Altnagelvin, South West Acute and Omagh Hospitals have continued to provide an exceptionally high level of performance during the pandemic.
The Coronary Care Units, Cardiology Inpatient wards and Cardiac Assessment Unit are busy and have continued to care for the patients with the most serious heart problems.
The Cardiac Investigation Units on the three Hospital sites have maintained excellent care for patients both in terms of activity and standards.
The Cath lab has maintained a 24/7 service for treatment of heart attacks and has continued to investigate and treat patients through coronary angiography, stent implantation and pacemaker implantation without any break in service.
The cardiac CT and MR services continue to investigate large numbers of patients, often with complex heart conditions.
Heart failure nurses and the staff in the Our Hearts Our Minds programme have been innovative and committed in maintaining a highly-functioning service for patients.
There have been innovations too in the 24/7 telephone advice service (028 8283 3129) and the Cardiology Hub which have been very successful due to the commitment of the staff involved.
Speaking on behalf of Consultant Cardiologists in the Western Trust, Dr Paul McGlinchey and Dr Monica Monaghan said: "Our managers have been dealing with uncertainty on behalf of staff and patients to keep services intact and everyone safe.
"We have noticed that our colleagues in the various disciplines in Cardiology are feeling a bit tired; they have dealt with daily changes in practice, anxiety and stress and have covered for sick and isolating colleagues. They have not had time off during lockdowns. We thought that it was timely for us to recognise the commitment and endeavour they have shown to us, the Trust, the patients and the community we serve.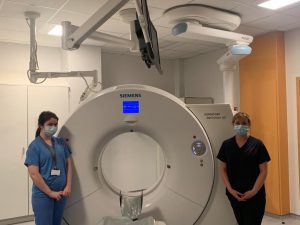 "We are extremely proud of how they, individually and collectively, have worked with resilience through all of the challenges to keep patient care at the forefront of what they and we do. We wanted to publicly show our appreciation and gratitude; we would also like to hear from patients and their friends and family, who can bear witness to the incredible work of the departments during this time. We hope that this can, in turn give them and us strength and fortitude in our work for the months yet to come."