Lisnaskea mum of three Amanda praises maternity staff at South West Acute Hospital for 'saving her baby daughter's life'
29/06/2023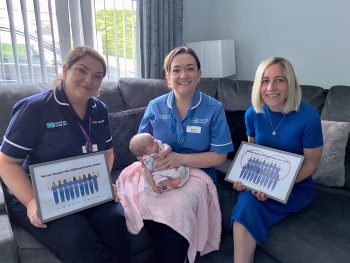 Lisnaskea Mum of three Amanda Oldfield is full of praise for the amazing care and support provided to her and her baby by all of the Maternity and Neonatal team at South West Acute Hospital, Enniskillen.
Amanda's baby daughter Jessica decided she couldn't wait any longer to say 'hello to the world' and was safely delivered five weeks early via emergency C-section at SWAH on 15 May 2023 weighing 5lb 6oz.
Amanda explained:
"I had a bleed earlier on in my pregnancy and contacted the midwifery team at the South West Acute Hospital and they brought me in and checked that everything was okay. I then had another bleed one week prior to Jessica's birth and was kept in the maternity ward for observation and then was discharged on Saturday and given a date for elective C-section in June 2023.

"I am very keen to reassurance expectant mums who are anxious during complex pregnancies that you are in safe hands with the maternity team at SWAH. Throughout my antenatal journey, I was met with professionalism, care and attention and this was the case when I went into early labour and my husband Alex had to make a quick journey to the hospital.

"We arrived up to the maternity ward and were met with an air of calm, which really did ally any fears and anxiety. It was all a bit of a whirlwind, when the midwives explained that I needed an emergency C-Section. They were so reassuring that I knew we were in safe hands. I was put to sleep at 9.17am and Jessica was delivered at 9.21am (just four minutes) and I believe they saved Jessica's life.

"Jessica and I got the best care from all the maternity staff. She was so tiny and needed some extra support and it was such a relief to know that the neonatal unit was just next door and the staff were amazing. They talked us through everything they were doing, helped us bond with Jessica and allayed any fears we had about looking after such a tiny, little newborn baby.

"Jessica was discharged after spending one week being cared for in the SWAH Neonatal Unit and was able to come home to her big sister Caitlin who is 10 years old and her big brother Daniel who is eight years old, who were so excited to help take care of her.
Amanda continued:
"It is all thanks to the excellent care the doctors, Midwives and Neonatal nurses provided to us in the hospital and we will be forever grateful that they saved Jessica's life. Jessica is doing so well and thriving at home and will be getting plenty of extra cuddles from Caitlin and Daniel over the summer holidays."
As a big thanks to the Maternity and Neonatal Staff Amanda presented them both with a framed photo to say a huge thank you to them for everything they have done to support her, baby Jessica and their family.
Lead Midwife Brenda McCabe said:
"The Maternity Unit in SWAH is a thriving unit that facilitates approximately 1,200 deliveries per year. Midwives are in the unique position to share their amazing journey with women and their families. Amanda's experience is testament to the safe and effective care the Midwives; Medical Staff and nursing staffprovide every day to the woman of Fermanagh, Omagh and Surrounding areas. The Maternity and Neonatal departments are committed and work very closely together to provide and sustain these necessary services to our local community.

"We share this vision to provide high standards of care and while nurturing and continuously developing our current staff we are also invested in the workforce for the future."
Brenda continued:
"The Western Trust underwent a recruitment drive with great success and we wish to reassure the public that Maternity services are growing from strength to strength. Specialist midwives and Midwifery Leads have been proactive in local schools to promote midwifery as a career and we support them further by facilitating students to gain experience.

"We are so proud to have 11 students (from a cohort of 30 in total) from the Western Trust's geographical area who have just commenced the Masters Shortened Midwifery Course with Queens University, Belfast.

"We are committed to giving every baby the best start in life, being an advocate for women and ensuring our departments in the Western Trust are a great place to work.

"We are very grateful to Amanda for telling her pregnancy journey and for her wonderful feedback about the care she and her daughter received in the hospital. We are honoured to have cared for Amanda and her baby and to receive the special gift of two framed pictures depicting names of all the midwifery team and neonatal nurses is very heart warming and fills us with immense pride. This is a true reflection of all the staff in Maternity services at the South West Acute Hospital who work incredibly well as a team and both pictures will take pride of place in the Maternity Ward and Neonatal Unit. Thank you Amanda and Jessica for this beautiful gift."