Altnagelvin Theatre Nurse celebrates 50 years of nursing!
16/01/2023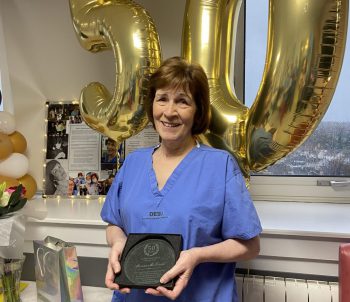 Colleagues of popular Theatre Nurse Marian McGrath held a celebration tea party to mark an incredible 50 years dedication to nursing at Altnagelvin Hospital.
Sr Rowena McHugh, Dedicated Elective Surgical Unit Manager at Altnagelvin Hospital explained:
"On 5th January 1973 a young student from Derry/Londonderry Marian Grant accepted her position to commence the preliminary training school for nurses at Altnagelvin Hospital for a three year period. She commenced with glowing references from her teachers at Thornhill College who said Marian was of excellent conduct and attitude. They described the young student as thoughtful, reliable with great consideration for others and awareness of their opinions and needs. All qualities that still shine through in Marian today – five decades later!!

"Throughout her student training her reports showed how she was then as efficient, willing, co-operative, kind and understanding as she is now.

"Over the years it has been an absolute a pleasure, for myself, to have not only worked, but to be trained with one of the very best, and to have grown from a young newly qualified staff nurse, to now 23 years later, as the sister of Dedicated Elective Surgical Unit (DESU).  The support, advice, encouragement, love, care and attention, both personally and professionally I have received from Marian has been truly remarkable. She has made me into the nurse and woman I am today.

"Marian worked as the nurse in charge on permanent night duty when I started in theatres in 2000. I worked many a night with her as a very junior, newly qualified staff nurse, and it is safe to say she has taught me everything I know about emergency surgery and responding to major incidents. As you can imagine as a first responder in a lot of incidents, as the theatre team also attend resuscitation, there were many a horrific night. It was the love, care, support from each other that we got through to come back on duty night after night.

"Her knowledge, skills and wisdom, gained from her 50 years' experience is second to none. She is an excellent mentor who has great time and patience for our newly trained staff nurses. I am eternally grateful that Marian was my mentor and lucky to have known her and worked with her throughout my nursing career. She really is the most special lady and friend and an integral part of the Theatre family. I know I speak for all of my colleagues in saying that we do not know what we are going to do when she finally decides to retire!"
Speaking about her nursing career Marian McGrath explained:
"When I started nursing `back in the day' students were allocated to a department – no choices were given!  I was allocated to Theatres in February 1976 and have been here ever since.  I worked in Theatres on night duty and moved to Recovery 17 years ago to work day duty.  I was working night shift when I started in Theatres and there isn't much I haven't seen or experienced.  It can be extremely busy especially during the night shifts when ALL surgeries are Emergency Surgery (Eyes, Orthopaedics, Trauma, Gynae, Urology, General, ENT and OMFS).

"It is a tough job as some surgeries can be complicated, traumatic and take hours.  It can also be sad when attending Organ Retrievals for donation, but it is often lifesaving and always a privilege.

"My daughter had emergency surgery last October and I asked her about her experience and this is what she had to say:

"The last thing I remember before going under anaesthetic was the nurse holding my hand to reassure me.

The first thing I remember waking up afterwards was the recovery nurse making sure I was stable, comfortable, pain free and getting me a sick bowl super quick!

Theatre and recovery Nurses are fantastic professionals who often get overlooked as they are behind the scenes but who care for us at our most vulnerable, under anaesthetic and recovering straight after surgery.  Takes a special kind of person to do all that……#NursesRock

"I am very proud to be a Theatre and Recovery Nurse and have had a very rewarding career.  My colleagues are my other family through good and bad times and I would be lost without them. I would encourage anyone who is thinking about a career in nursing to follow your dreams and hope to continue to mentor and support new recruits into this wonderful profession."
Thank you Marian for your dedication and commitment to nursing and we wish you continued good health and happiness in the future. You are a true #WTHero.