Altnagelvin Parents Group launch Altnagelvin Parents Care Box
15/02/2023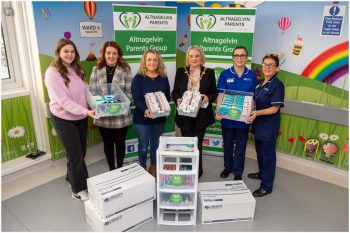 Altnagelvin Parents Group, a registered charity who support families of children with lifelong medical conditions, and who attend Altnagelvin Hospital are delighted to launch 'Altnagelvin Parents Care Box' with the help of Derry City & Strabane Mayor Sandra Duffy.
The care box was developed in partnership with Altnagelvin Parents Group, Mayor of Derry City & Strabane District Sandra Duffy and St Mary's College student Emer Rabbett who supported the project as part of Pope John Paul II award.
Lisa Storey, Chairperson for the Altnagelvin Parents Group said:
"The aim of the care box is to help meet the needs of parents and carers who have children admitted to the children's wards in Altnagelvin Hospital.

"Parents often have children admitted to the hospital due to medical emergencies, and understandably may not have time to think about themselves. Days and nights on the ward can be long, stressful and both physically and emotionally exhausting.

"It was recently brought to our attention that whilst caring for sick children on the ward, mothers have no access to sanitary products and cannot always leave their child's hospital bedside to purchase these. When we explored this further we learned that a few young girls had taken their first period when admitted to the children's ward. Ultimately both have been depending on the goodwill of the staff to help them out in times of need.

"Having a parent's care box available means parents and carers have access on the wards to items such as sanitary towels, tampons, toothbrushes, toothpaste, deodorant and wipes.

"We would like to extend a special word of thanks to the Mayor who donated 600 sanitary products towards this initiative. It's important to us that parents are caring for themselves and meeting their own needs too."
Photo Courtesy of Peter McKane: Photographed is Lisa Storey and Deirdre Cassidy from Altnagelvin Parents Group, Mayor Sandra Duffy and Emer Rabbett.  Accepting the donation is Michelle Bryson Lead Nurse Acute Paediatrics and Sharon O'Donnell Deputy Sister Ward 16.