Altnagelvin Hospital's ICU Follow Up Clinic celebrates first birthday
28/07/2023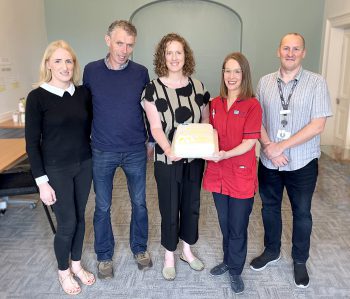 Our Intensive Care Unit at Altnagelvin Hospital, Derry/Londonderry is celebrating the first birthday of their ICU Follow up clinic which supports Intensive Care patients who have experienced Post Intensive Care Syndrome (PICS).
The first ICU Follow up clinic started on the 28 July 2022 and since then has seen 81 patients at 24 clinic dates arranged in the first year. Patients who meet the inclusion criteria are invited along with their families to attend the clinic based at Agnes Jones Building on the Altnagelvin Hospital site.
Staff in the Intensive Care Unit celebrated the first birthday on 27 July 2023 in the ICU at Altnagelvin Hospital, and patients attending the clinic on the day joined in the celebrations and enjoyed some delicious cupcakes and treats.
Sister Fiona Higgins explained:
"After spending time in Intensive Care patients may experience Post Intensive Care Syndrome (PICS). PICS is defined as new or worsening impairment of physical, psychological, or cognitive health, or a combination of these after critical illness.  Problems like these can stop people from returning to their normal daily activities and lives.

"The Intensive Care Unit (ICU) Follow up clinic is run by an ICU nurse and ICU consultant and the aim of the clinic is to allow the returning patient the opportunity to discuss what happened during their stay in ICU and clarify any queries they have regarding their time in ICU. The follow up clinic also has the added benefit of providing feedback for areas of improvement in the ICU itself.

"A time line of events for each individual can be discussed if the patient wishes and a review of how they are managing post discharge from ICU. This allows the opportunity to assess if the patient requires input from any other specialities, which we can make ongoing referrals.

"Following the patients appointment we will write a summary for their GP and discuss any actions that are required to support their ongoing recovery."

"We are very grateful for the feedback from patients and their families who have attended the clinics which has made a positive contribution to the learning and development of this service.  Our staff in ICU hope to continue to improve this service for the benefit of our patients who require Intensive Care treatment in the future."
Comments from patients include:-
"From first meeting the ICU team they put me at ease. They had all the information there if I had any questions. I am so pleased I had the opportunity to meet them and understand how I was cared for. Thank you!"

"The ICU follow up clinic is an excellent idea. It will be invaluable to anyone who is unfortunate enough to be admitted. The clinic will let patients and families understand the timeline of care and events during their stay."

"I had little memory of the week I spent in ICU and the clinic gave me some clarity of what went on.  An excellent service, compassion and empathy shown by both staff members."

"ICU follow up clinic was very insightful for myself. The service not only gave me an idea of what I came through but also gave me an idea of things from my families' point of view. The ICU follow up clinic was very emotional."