Altnagelvin Hospital Showcases Cross-Border Services
04/04/2022
An Taoiseach, Micheál Martin and Minister Charlie McConalogue TD was welcomed to Altnagelvin Hospital on Friday 1 April, where they met with staff involved with providing cross-border care.
Mr Martin and Minister McConalogue was given a tour of the Catheteristion Laboratory (Cath Lab), one of the services provided at Altnagelvin Hospital, available for patients from County Donegal. They also received an update on the innovative care being provided at the North West Cancer Centre.
The Taoiseach and Minister McConalogue spoke with clinicians and frontline staff, and also took the opportunity to speak with Trust Board members, Chair of the Western Health and Social Care Trust (Western Trust), Sam Pollock and Chief Executive, Neil Guckian. They discussed the current pressures, the positive outcomes of cross-border care and strengthening links for future opportunities.
Western Trust, Chief Executive, Neil Guckian, said: "Cross-border treatment and care provided at Altnagelvin Hospital is an example of collaborative expertise between clinicians, nurses, and management at the hospital alongside HSE colleagues.
He paid tribute to the role played by Co-operating and Working Together (CAWT) over the last 30 years in accessing EU Funding and building cross border relationships.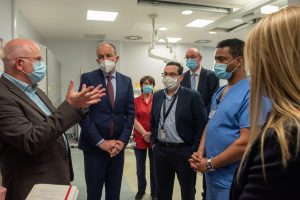 "The North West Cancer Centre and Cath Lab, both in their sixth year of succession, have brought huge benefits by offering innovative and life-saving treatments and reducing arduous waiting times for patients from the Western Trust and Letterkenny University Hospital areas. I would like to thank the Taoiseach and Minister McConalogue for visiting us today and for showing continuing commitment and support for cross-border services."