Altnagelvin Emergency Department Extension Now Operational
20/01/2021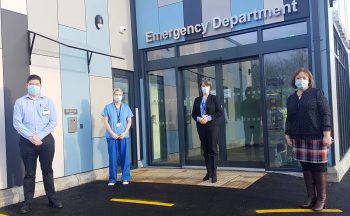 A significant modular extension to Altnagelvin Hospital's Emergency Department is now operational providing a new 50 seater waiting area and a new minors unit.
In the first surge of the pandemic all HSC Trusts needed to create separate COVID-19 and Non-COVID pathways through their Emergency Departments. In Altnagelvin Hospital, a system of separating COVID-19 and Non-COVID flows for patients attending was introduced, along with social distancing measures in waiting areas. This resulted in considerable challenges at times of highest attendance creating over-crowding problems at the Emergency Department.
The case was made to undertake a significant modular extension to the ED footprint facilitating the new COVID-19 patient flow and a Business case (£1.5M) was rapidly prepared and approved to provide an interim solution to support the service. The first two phases were fast tracked and now complete with the opening of the new modular extension.
Geraldine McKay, Director of Acute Services in the Western Trust said: "We are delighted to open the new extension to our Emergency Department at Altnagelvin to assist not only with the safe flow of patients but also to create more space for our ED staff.
"It has been well documented that our existing Emergency Department, which opened in 1985 and was designed for a maximum of 35,000 to 40,000 annual attendances is no longer adequate to deal with the 70-80,000 annual attendances currently or to provide a safe working environment for our staff
"The segregated COVID and Non-COVID pathways, coupled with the predicted annual 5% growth in patient numbers has been temporarily addressed by this new modular extension until the strategic new build proposals under Phase 5.2a at Altnagelvin are approved and progressed on site.
Geraldine continued: "In addition to the new modular building, the contractor will now move into the existing waiting area and refurbish this to provide more clinical space, storage and a dedicated ambulance drop off zone. It is hoped that the Phase 3 of this work will be completed in March 2021.
"I would like to thank our patients and staff for their patience and support throughout the ongoing works that are taking place."
Dr Brendan Lavery, Lead Consultant in Emergency Medicine at Altnagelvin Hospital said: "This new modular building has created additional space and the reconfiguration of the Emergency Department necessary to implement COVID and Non-COVID pathways in order to enhance safety of both staff and patients.
"The Emergency Department is the key component part of a whole system approach to managing emergency and unscheduled care. Having the right environment is essential to facilitating effective patient flow, allowing emergency and unscheduled care services to operate as part of an integrated health system."