Adult Learning Disability Transition Team
24/06/2021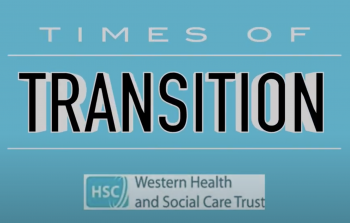 Co-Production is about working in equal partnership with our service users and carers.
The Adult Learning Disability Transition Team in the Northern Sector entered a Regional Dragon's Den Competition.  We identified that transition from school can cause young adults with learning disabilities some worries and anxieties.  We engaged with young people who had made the transition and we all felt as a group that a digital medium might be the best format to present our ideas.  This decision was made in partnership with service users and staff.
After presenting to the Dragon's in Portadown we were delighted to be one of three winning teams.  We worked in partnership with young adults who had already made the transition from school to day opportunities to produce the final piece.  We co-produced this piece with a local Day Opportunity provider, Tuned In Project who specialise in creative digital media and everyone involved reported it to be an enjoyable process and feedback has been very positive.